The City of Music
Vienna; the City of Music, of Mozart, the one-time seat of the Austrian-Hungarian dynasty, and consistently named one of the best places to live. It is a city of natural and architectural beauty, culture, accessibility to both Eastern and Western Europe, and one that has refined their cuisine over the years. Vienna merits a visit, whether its your first time to Europe, or one of many trips.
The Imperial City, Vienna is home to Baroque buildings and stately monuments that remind us of its once monarchical power. Great minds and personalities have also come from Vienna; this was the home of Sigmund Freud, Marie-Antoinette, Mozart, and Bertha von Suttner, the first female Nobel Peace Prize winner. With so many lives and so much history to explore in Vienna, doing so with a guide will make the city come to life.
Join us on our three-hour Vienna Bike Tour and ride along the Danube River, see the Opera House, and learn about the history of this gorgeous city. Our guides are locals who will make the city come alive. Explore both the must-see sites and the off-the-beaten-path wonders to discover Vienna in a way you never thought possible.
Tour Details
What's Included
Good to Know
All ages are welcome; we have some small bikes, trailers, and tag along tandems available for children. All tours run rain or shine.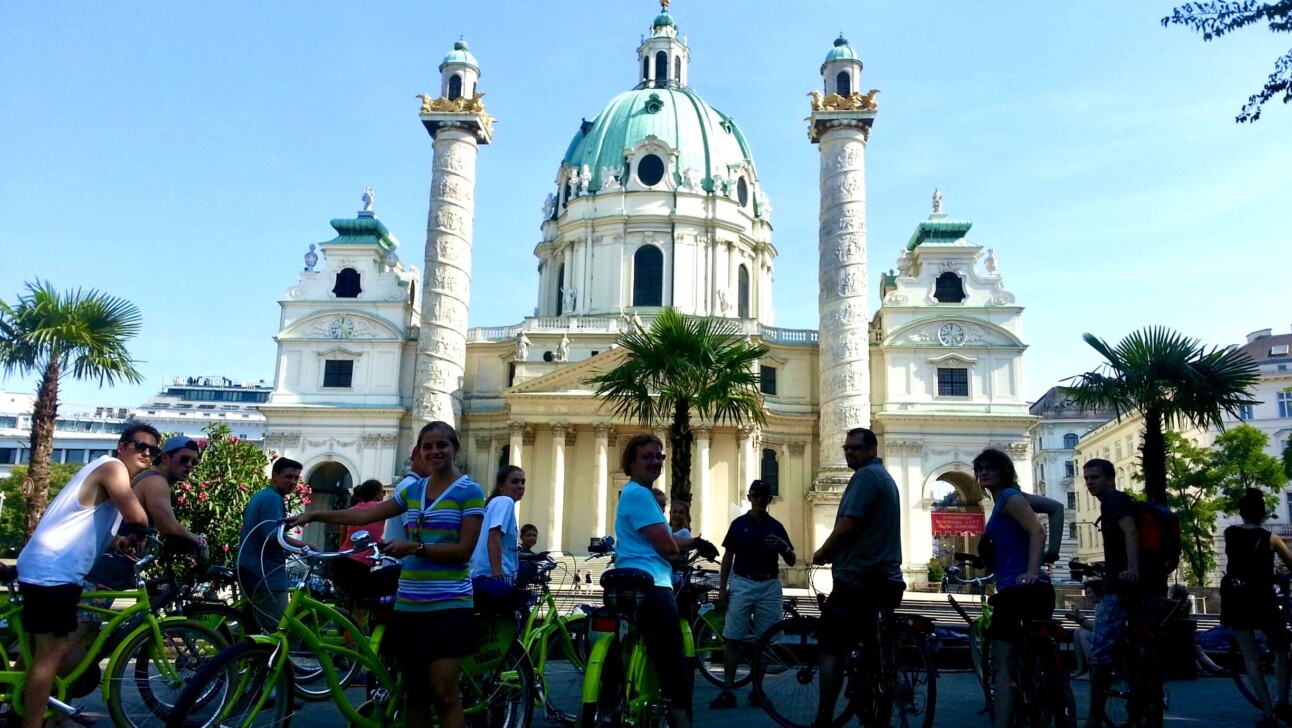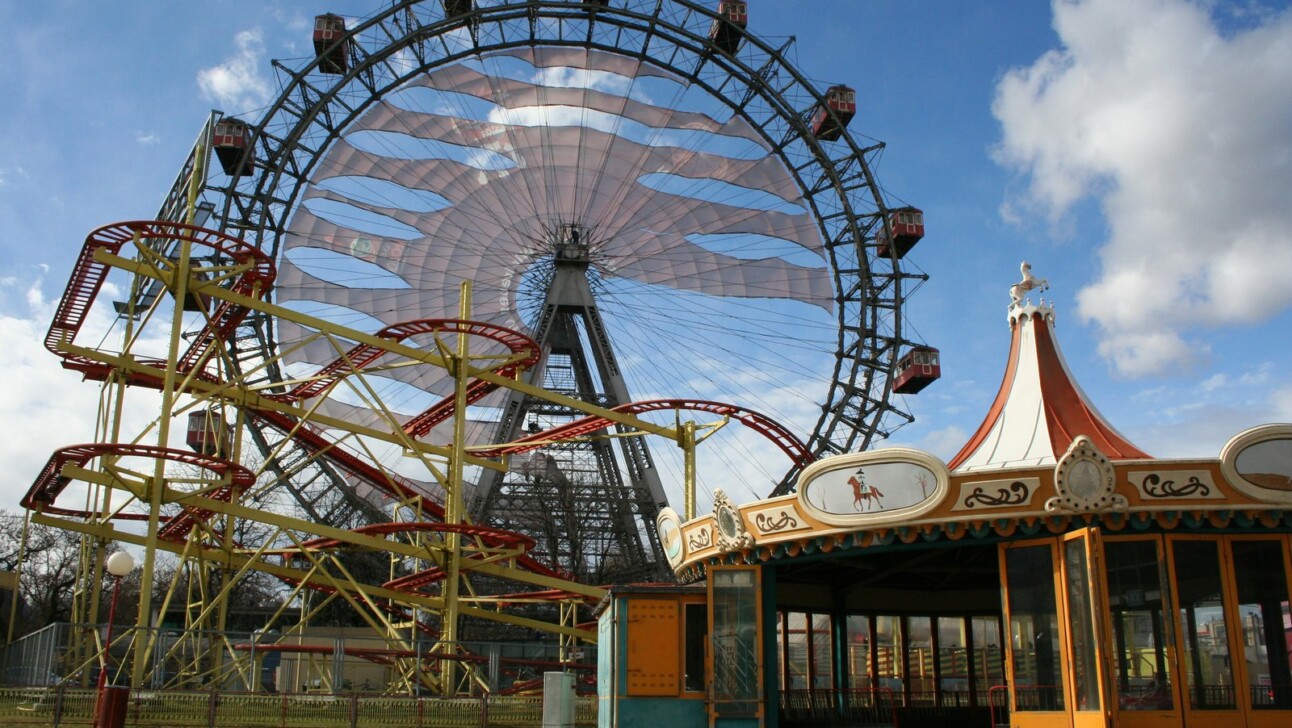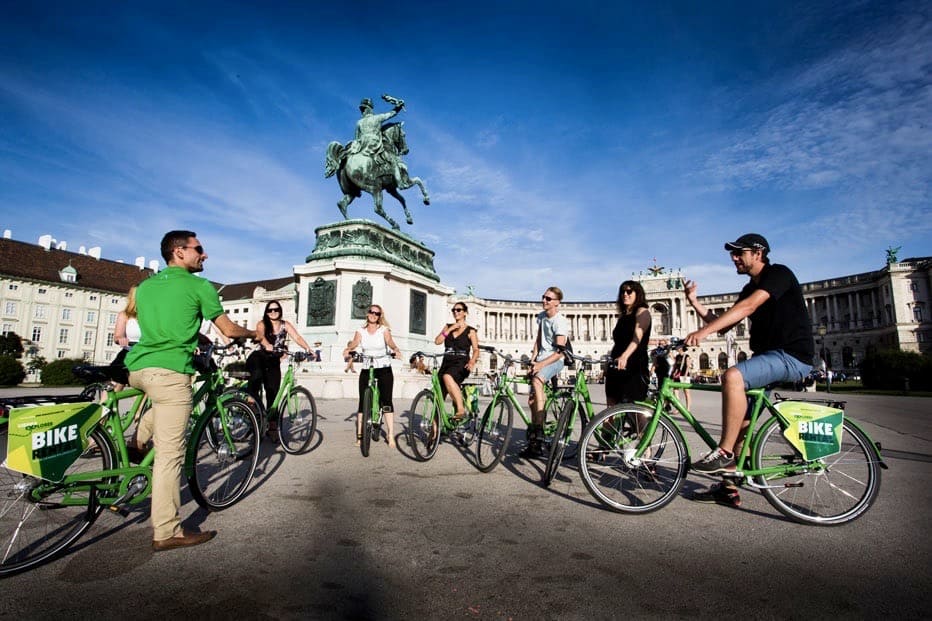 Meeting Point
This tour meets at our office located at Franz-Josefs-Kai 45, 1010 Vienna (Metro lines U2 and U4 to Schottenring, Salztorbrücke exit)
Frequently Asked Questions
Have more questions? Check our Fat Tire Bike Tours general FAQs or get in touch.
Important Information
Where is the meeting point?
Our office located at Franz-Josefs-Kai 45, 1010 Vienna (Metro lines U2 and U4 to Schottenring, Salztorbrücke exit).
What is your cancellation policy?
We're happy to offer free changes and 100% refund up to 24 hours before tour* Failure to cancel a reservation at least 24 hours prior to scheduled departure may result in forfeited travel funds. Fare difference may apply.
Can I reschedule in the event of bad weather?
We intend on operating rain or shine, and we advise all guests to dress appropriately for the weather.
Can I leave the tour early?
Yes, but the bikes must be returned to our office. If you believe that your plans will not allow for you to stay for the duration of the tour, thank you for contacting us in advance of booking.
Is this a good tour for kids?
Absolutely! This is a great way to discover the city with little ones. We have smaller kids bikes and kid accessories (tag-along tandems and babyseats) available; just let us know in the notes of your booking what you will need.
Are helmets mandatory?
For children under 12 yes, and they are available for anyone over 12 free of charge.
Do we go inside the museums and monuments?
We unfortunately do not have time on this tour to enter any of the monuments or museums that we'll see. Your guide will give you plenty of helpful hints to go back and dive a bit deeper into the areas of the city that interest you most following the tour.
What are your covid policies, and will I need to wear a mask?
Masks must be worn inside the office, but are not required during the tour. We ask that all guests maintain a 3 foot/one meter distance between other guests.
How long is the ride?
This tour is about 3 hours long and covers approximately 7.5 miles (12 kilometers).
Do you have electric bikes?
Yes, although we do have a limited number of them, so we kindly ask that you contact us in advance to ensure availability. E-bikes are an additional €15 per bike.
Is water included or can I purchase some before the tour?
There is water available for purchase before the tour.
Will there be a basket on my bike or a way to carry my bag?
We can provide a basket to carry small items when requested.
What kind of bikes do you use?
We use comfortable city bikes that are great for all sizes.
Can I store my luggage at your shop during the tour?
Of course! You are welcome to store bags in our office while on tour.