Savannah is one of America's most beautiful towns, and we would love to help you explore it like a local. After meeting at our shop located near Savannah's beautiful Forsyth Park, we will set everyone up with a bike based on your height, comfort, and preference to ensure an enjoyable ride around the Hostess City.
This bike tour covers the most popular sites around Savannah's Historic District over a flat, easy to enjoy route. Our experienced, local tour guides will take you to the Mercer-Williams House; the actual site of events described in Midnight in the Garden of Good and Evil.
Tour Details
What's Included
Good to Know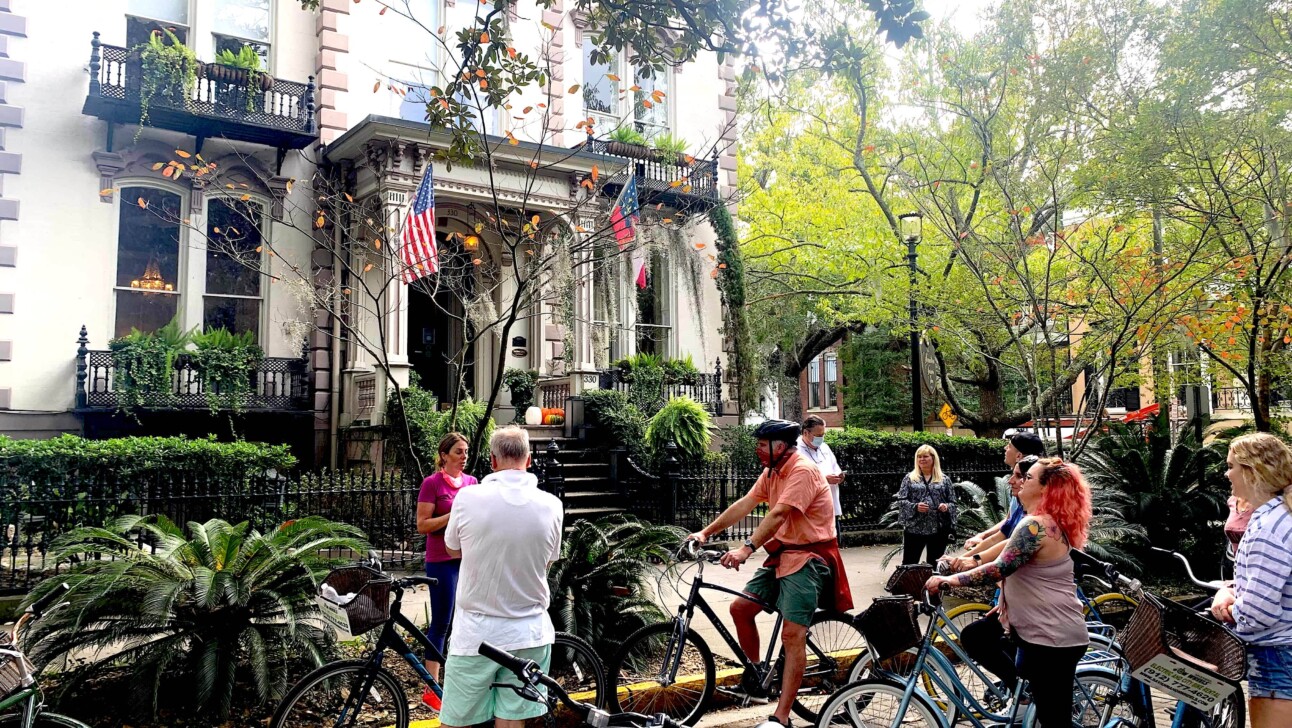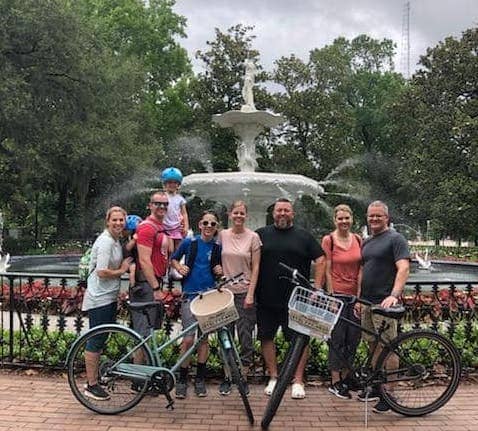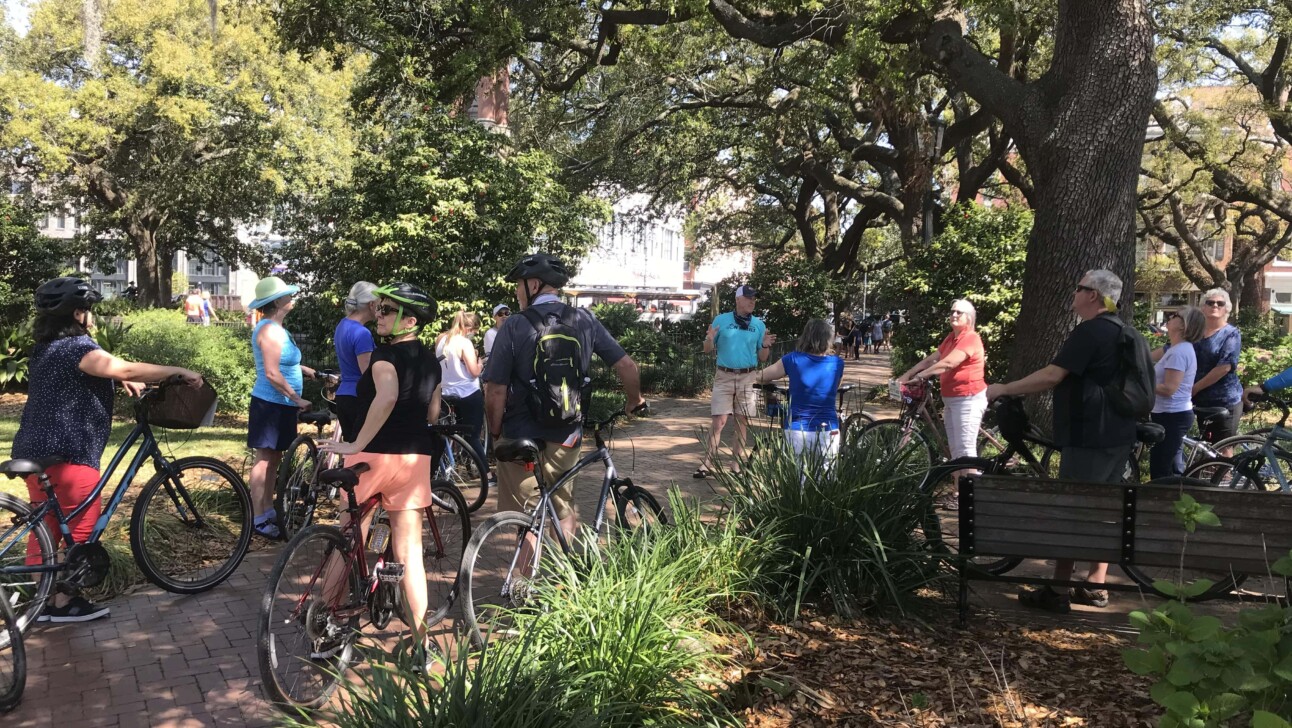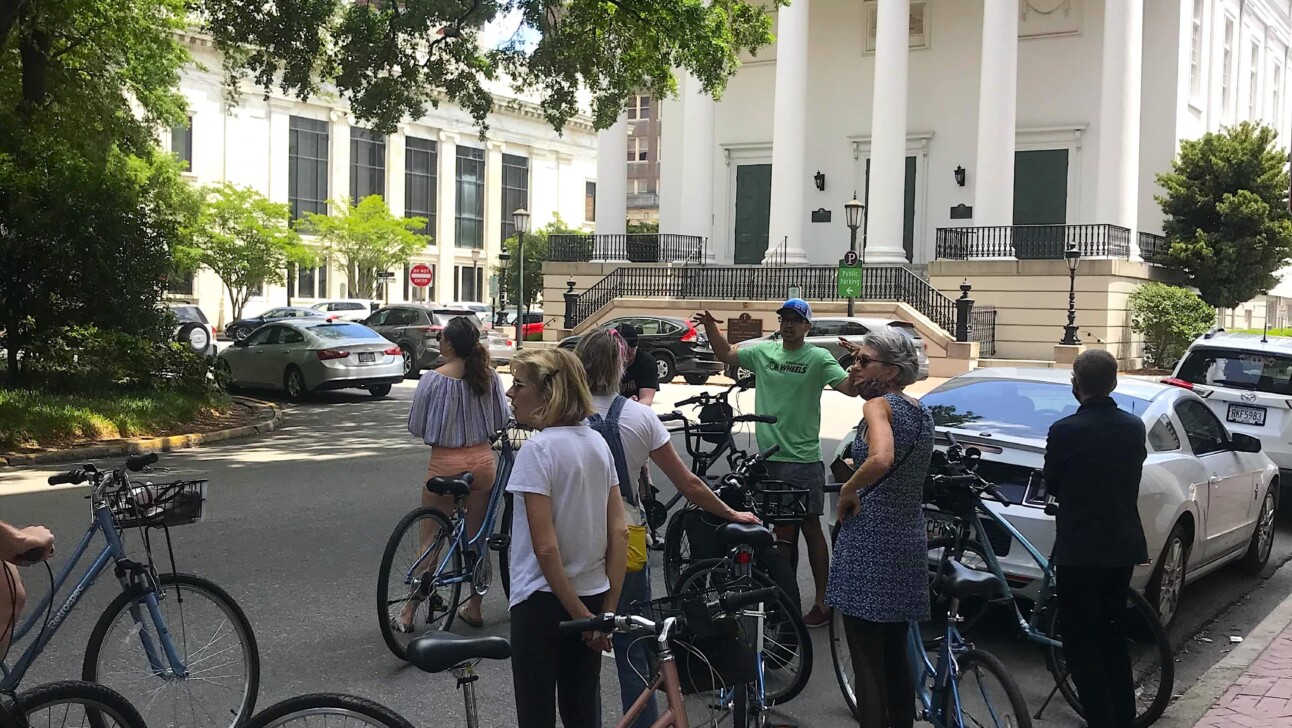 Meeting Point
This tour meets at the Savannah on Wheels Shop at 405 W Hall St, Savannah, GA 31401.
Frequently Asked Questions
Have more questions? Check our Fat Tire Bike Tours general FAQs or get in touch.
Important Information
Where is the meeting point?
We meet at our shop at 405 W Hall St, Savannah, GA 31401.
What is your cancellation policy?
We're happy to offer free changes and 100% refund up to 24 hours before tour departure. Failure to cancel a reservation at least 24 hours prior to scheduled departure may result in forfeited travel funds. Fare difference may apply.
Can I leave the tour early?
Yes, with prior arrangement. Thanks for letting us know in the notes of your booking if you will need to leave early!
Can I rent the bikes before or after the tour?
Yes! For an additional $10 you can keep your bikes for the duration of the business day. You may even pick up your bikes before the tour if time permits.
Do I have to wear a helmet?
Guests aged 16 and older are not required to wear a helmet. These are provided free-of-charge.
Do we go inside the museums and monuments?
No we do not enter any sites as we have designed this tour to give you a broad overview of the city.
Do you have electric bikes?
Yes! We have both pedal-assist and throttle e-bikes available for an additional $30/person. Please select this option when checking out, and we'll get you fit for the best type of bike for you when you arrive for your tour.
How long is the ride?
The tour is 1.5-2 hours long and covers about 5 miles/8 kilometers through a leisurely ride.
Is there a place to store bags and luggage during the tour?
Yes, you are welcome to bring your larger bags to our shop and leave them here for the duration of your tour.
Is this tour appropriate for children?
Yes! Minors must be accompanied by a guardian 18 years or older. Depending on the age of the child/children, we can offer a two behind trailer that can seat up to 2 kids about who are about the same age/weight. We can also offer a Yuba with seating for 2 kids from 3-8 years old. Due to the limited nature of these smaller bikes and accessories, please let us know if you would like to add one of these to your reservation in the notes of your booking.
Is water included or can I purchase some before the tour?
Water is available for purchase in our shop before the tour.
Should I bring cash?
Cash is a great way to show appreciation for your tour guide but is otherwise not required.
What are your covid policies, and will I need to wear a mask?
Masks are not required while on tour, but we have them available for anyone who wishes to wear one. All bikes are disinfected and hand sanitizer is also available in the shop.
What is your weather policy?
We do experience the occasional shower here in Savannah, but a complete washout is rare. If it is raining on the day of your tour, we encourage you to bring a poncho or purchase one from our shop. If your tour has been cancelled, you will receive notification via text message at least 30 minutes prior to your scheduled tour time. A little rain can result in a lot of fun, so if it's sprinkling out and you haven't received a text, the tour is on! In the event of extreme weather conditions, we will reschedule the tour if possible, but if the tour is unable to be rescheduled to a mutually agreeable time, we will refund the full price of the tour.
What kind of bikes do you have?
We offer a wide variety of bikes, most being hybrid bikes along with some cruisers and other options. All of our bikes are comfortable, and we have plenty of sizes available. We'll be sure to get you fit for the right bike for you!
What time should I arrive?
Ideally, we like everyone to arrive 15 minutes before a tour starts. We strive to get underway on time, so we appreciate it if you can try to keep to the allotted tour time. If you are running late please call us to let us know and we will do our best to hold up the tour for a reasonable period of time.
Will there be a basket on my bike or a way to carry my bag?
Baskets are available for items less than 6 pounds. We also have cup holders, and handlebar bags for miscellaneous items.