Where to Have a Proper Picnic in London
By Anne McCarthy
Spring is in the air! And summer is around the corner. That can only mean one thing:
Picnic time.
During spring and summer in Londontown, the city comes alive in more ways than one. London has an enviable amount of green space. And in the parks dotted in and around central London, tourists and residents are in full bloom – biking, touring, picnicking, watching movies, and more.
So, grab the picnic basket (or, picnic "hamper") and get ready. Here's a list of "must-try" picnicking spots! You'll also find a listing of a nearby grocery store if you prefer not to prepare a meal. If you do, however, prefer to prep your own food, a few quintessentially British picnic foods to add to the day's menu might include: Scotch eggs, sausage rolls, and some good ol' British G&T's. English chef, Jamie Oliver, has some useful tips for recipes and prep. Or, you can also shop for some iconic London foods before your visit to the park.
Additionally, one of the many appeals about picnicking in London is that it's perfect for London budget travel, as the city can be a bit expensive.
Hyde Park
Hyde Park is the largest of the Royal Parks, clocking in at 350 acres. It also has a tremendous diversity of activity – there's the Serpentine Lake where you can take a boat ride, the bustling hub of Speaker's Corner, the Diana Memorial Fountain, and more. There's never a shortage of amazing things to discover and marvel at when you're in Hyde Park.
As far as picnicking is concerned, you mostly have your full range of choice in the park. I find the area surrounding the Serpentine Lake to be especially lovely for picnicking purposes.
Nearby grocery stores:
There are many grocery stores near Hyde Park, like Sainsbury's and Whole Foods. Hyde Park is big; so, depending on where you're coming from, plan accordingly. A comprehensive list of conveniently located grocery stores can be found here.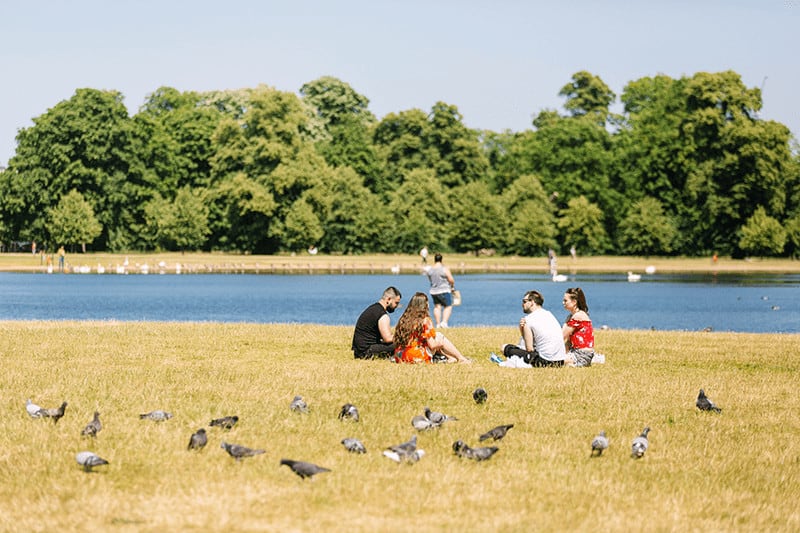 Regent's Park
Although Hyde Park is larger than this one, Regent's Park is equally as esteemed. From its gorgeous rose botanical gardens (Queen Mary's Garden), to the ever-popular London Zoo (the same one where Harry Potter first talked to snakes!), Open Air Theatre, and more, there is so much that Regent's Park has to offer. You can't go wrong, in terms of a good picnic spot, as Regent's Park is pretty gorgeous at every turn. After your picnic, check out the zoo if there's time. It's worth a visit!
Nearby grocery stores:
The closest bet is the Tesco Express on Baker Street. It's small, but there, you will find everything you need for your picnic. If you want some more upscale fair, the Waitrose on Marylebone High Street is good too.
St. James's Park
St. James's Park is – as the Brits like to say – "stunning." This gorgeous park, nestled in the heart of central London, is one of the Royal Parks, which surrounds Buckingham Palace. (To experience St. James's Park and the surrounding ones in a fun and unique way, book a Fat Tire Tours Royal Parks Bike Tour!)
Nearby grocery stores:
The Simply Fresh St. James's Park is your best bet, and it is right by the Tube station too!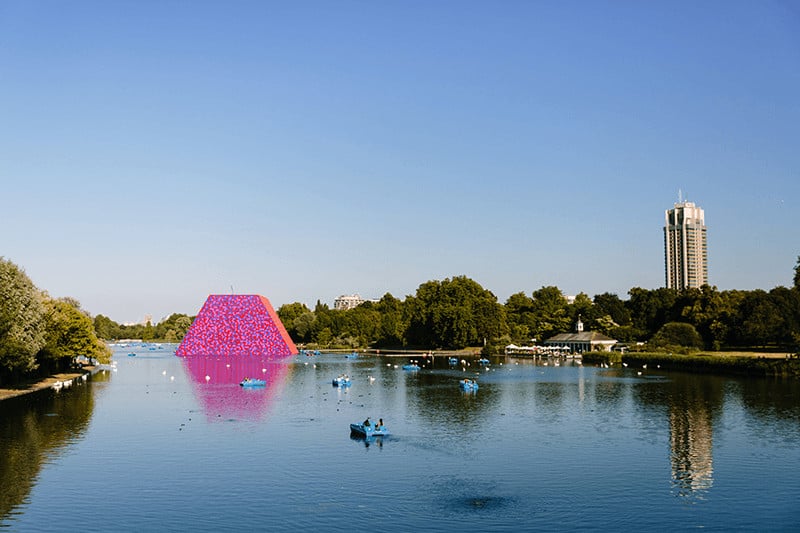 Green Park
Right next to St. James's Park is Green Park. The dramatic and impressive Wellington Arch serves as an entrée into this city-nestled park. Green Park houses Britain's rarest native trees, the black poplar tree. And as far as other fun facts and history about this Royal Park: it's interesting that this beautiful and serene place was once a notorious spot for robbers in the 1700s to approach unsuspecting victims. Those days are gone, though, and what now remains is a gorgeous park that would be happy to have you as a visitor, with your picnic blanket in tow.
Nearby grocery stores:
The M&S Green Park Simply Food is adjacent to the park, and is the perfect spot for your picnic supplies.
Hampstead Heath
Hampstead Heath offers incredible views of central London, which is reason enough to head to this spot. It's a slight trek from central London (but not significantly so – only 6k from Trafalgar Square!), as compared to the more centrally located parks listed above. However, it's well worth the trek.
In 2018, Hampstead Heath was even crowned "The Best Picnic Spot in London." Of the win, National Picnic Week representatives declared that: "Hampstead Heath is a popular spot for Londoners to frequent all year, especially in the summer months. Make your way up to Parliament hill viewpoint for a breathtaking view London's skyline nestled between leafy green trees. If you fancy a more active day out, the Men's and Ladies' Ponds are open all year round."
So, head up north to see what all the fuss is about. You'll be glad you did!
Nearby grocery stores:
The Tesco Express on Heath Street and the M&S Hampstead Simply Food are good bets for your shopping needs.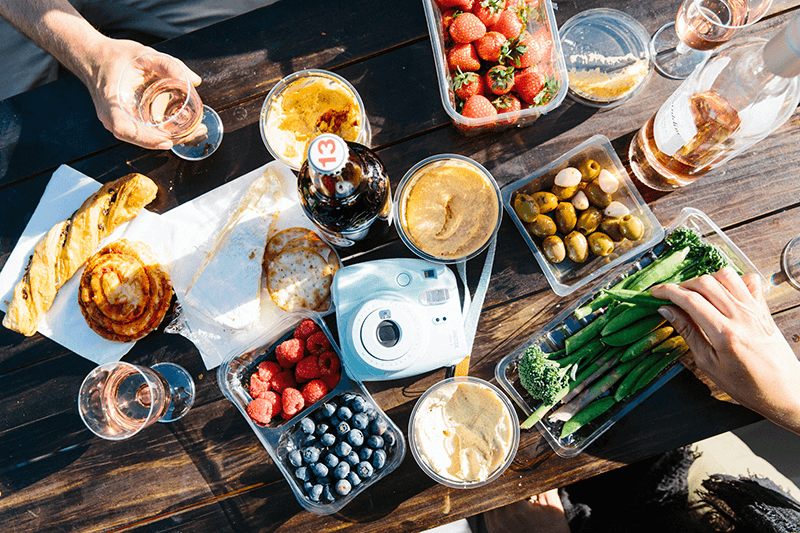 Kew Gardens 
Also a bit farther out is Kew Gardens. Kew Gardens houses the Royal Botanic Gardens, and with that comes some luxurious views of flowers and natural wildlife. If you're looking for an especially memorable picnic experience, you will want to head to Kew Gardens. The website affirms that "Kew gardens is the perfect place for picnics – please stick to grassy areas and don't bring barbecue or picnic furniture."
So, leave the barbie and Dîner en Blanc-level picnic set-up at home, but bring a good meal, some enthusiasm, and a camera to capture the beauty of Kew.
Nearby grocery stores:
Oliver's Wholefood Store, conveniently located by the Kew Gardens station, is well-placed for last-minute pre-picnic shopping.