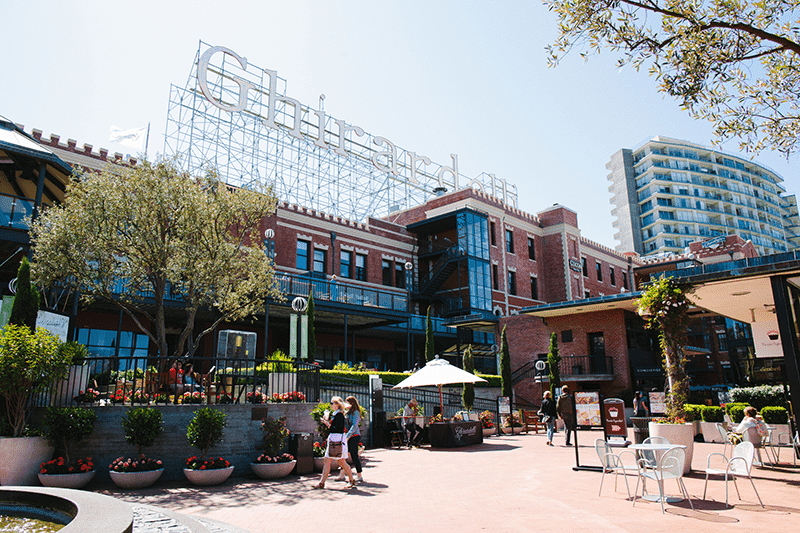 Visiting San Francisco on a Budget
By Anne McCarthy
For me, the thing I associate most strongly with San Francisco is the world-renowned San Francisco Ballet company and the 90s TV show "Full House." Let's lead with "Full House," though. One imagines I'd appeal to a broader audience with that reference, between the two.
Did you know you can visit the "Full House" house in San Francisco? This is just one of many – not only budget-friendly – but free (!) things to do in this incredible, hilly, cultured town.
Food
Where to eat on your trip? Why not peep the local farmers' markets on the weekend? Ferry Plaza Farmers' Market, Noe Valley Farmers' Market, Clement Street Farmers' Market, and Marin Country Farmers' Market are some surefire bets for finding fresh eats on the cheap.
There are so many delicious "cheap eats" in San Francisco. Restaurants like Yummy Yummy (where you can enjoy delicious Vietnamese Pho), Hot Sauce and Panko (mouth-watering chicken wings galore!), and The Flying Falafel (which has two locations in the city), are just a few of countless places to be satisfied and not break the bank.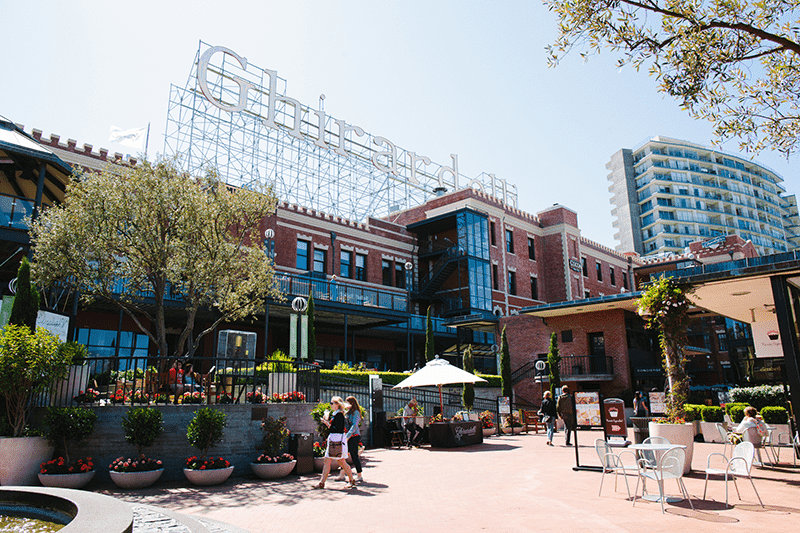 Lodging
As home to the Beat Generation, San Francisco has long-welcomed travelers on-the-move, like the "Beats" who made their way from New York City to San Francisco. The city has an abundance of top-rated hostels sprinkled throughout the city.
The top-rated (by Hostelworld) hostel found in San Francisco is at 711 Post Street. It's called the USA Hostels San Francisco and offers free breakfast, free wifi, free maps, and towels. Airbnb, of course, is also an option. And many inexpensive hotels can also be found; some starting at as little as $46 per night.
If you've decided to throw caution to the wind and spend like today is your last, then look no further than the San Francisco Four Seasons, where the Executive Suite will cost you a mere, cool $1,299. (Many rooms are available at much lower rates.) The second highest-rated hotel is the Fairmont San Francisco. Travel discounts can be found on a number of things, including hotels, so do a bit of research before a trip to ensure you get the best deals.
Where you choose to lay your head at night, though, matters much less than the fun you'll have when you wake up, tackling the many opportunities found in SF, as well as its fun activities.
Activities
This city is a cultural hub of epic proportions.  As noted, it is home to one of the U.S.'s premiere ballet companies, the San Francisco Ballet. Tickets to the ballet would constitute as a  "splurge," as they're more expensive than your average cost of admission to a museum. However, if you choose seats farther back from the stage, you can save some dough, while still enjoying the decades of efforts of world-class performers at the top of their game. The company's calendar on their website is the best place to buy tickets.
If ballet isn't your bag (and break my heart as it does to say it – ballet is not many people's bag) – take to the streets, and check out a Segway tour with City Segway!
The ever-popular Alcatraz Island & Segway Combo Tour is a hot ticket, so be sure to book your reservation ASAP if this sounds like something up your alley.  Though this is on the pricey end of a travel budget – the tour is worth its weight in gold for the ground you'll cover, the experience you'll have, and the abundance of fascinating facts you'll learn on this exciting tour.
The tour includes a 10-minute ferry ride and entrance to Alcatraz Island at a later time. A visit to the prison – though perhaps, grim-sounding – is actually one of the most popular activities for visitors. There, an audio headset will be plopped on your head and you'll whisk your way through a place steeped in history.  Book now to secure your spot!
(Of note, former prisons always make for fascinating travel stops; if you're heading to Philadelphia, there's the Eastern State Penitentiary, and in Dublin, Kilmainham Gaol, a former prison, is a top-rated must-see. I can attest that both are informative and unique experiences not to be missed.)
City Segway offers other fun Segway Tours to fit your budget and time. You can take a gander at them on our website to pick the one that suits you best. The Sunset Segway Tour is the perfect way to end a day of busy sightseeing as a little treat to yourself.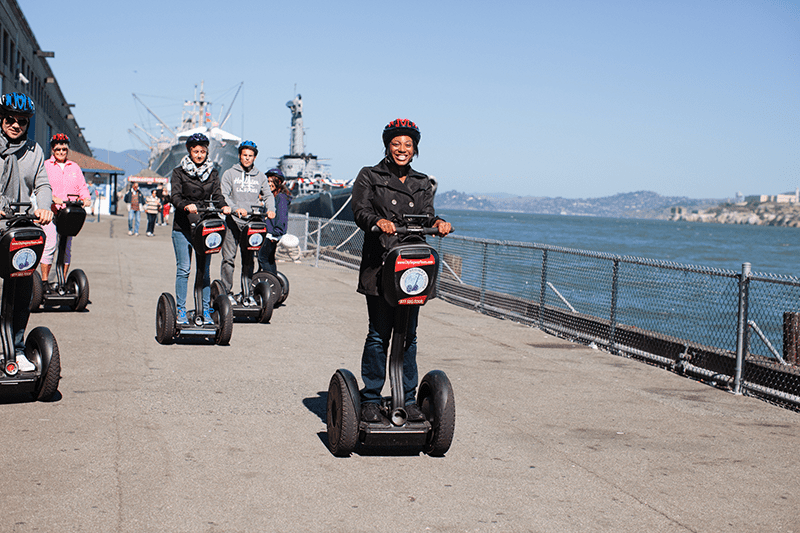 Neighborhood Walks & Hikes
Why not take yourself on a walking tour of one of San Francisco's most famous neighborhoods? Chinatown in San Francisco is the largest Chinatown outside of Asia itself. It's a bevy of shopping and delicious foods as far as the nose can smell.
Say you want to get out of the city for a bit – well, the San Francisco area has everything: ocean, city life, mountains, and more. Check out some hiking opportunities nearby for a free way to spend your day. And of course, there's the gorgeous Golden Gate Park, which will provide some urban-set nature too, if you want to stay closer to the city. It's the third most visited park in the U.S., and you'll see why when you get there – it's stunning and magnificent. The park is free to enter, but attractions like the Conservatory of Flowers do charge admission.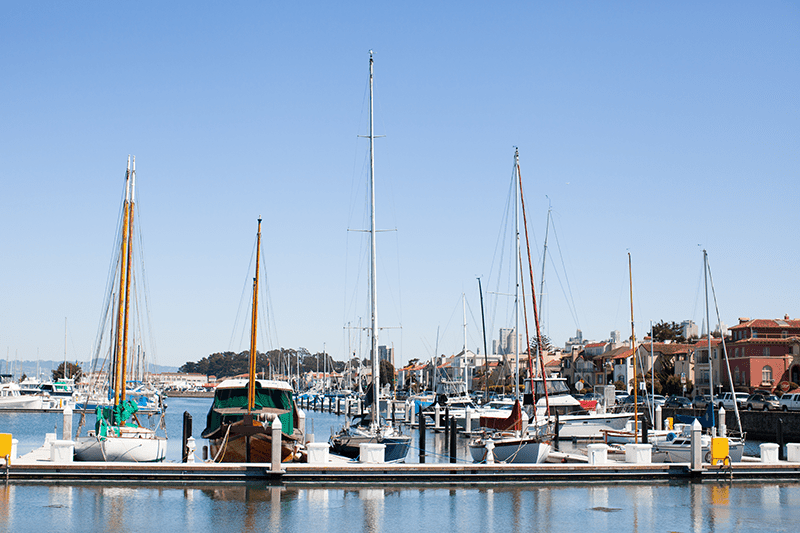 For the Film Buffs
If you're a big pop culture fan (and perhaps really vibed with the "Full House" reference earlier), you probably already know that many movies have been filmed in the City by the Bay, and the city pops up in music and movies quite a lot! You can check out film locations for "Mrs. Doubtfire" or Alfred Hitchcock's thriller "Vertigo" with handy maps made by film buffs.
Best of all?  All these self-led adventures are 100% free. Robin Williams, who played "Mrs. Doubtfire" in the 1993 hit comedy, was a lover of San Francisco, as well as a "neighbor, generous local legend, and one of SF's own," reports The Culture Trip. The city and its surrounding areas were his longtime home and the city where he got his start in comedy, too. If you want a taste of the San Fran that Williams experienced, head to local bike shops (Williams was an avid cyclist), or laze upon the Robin Williams Meadow in Golden Gate Park. Previously called Sharon Meadow, it was renamed following the actor's death because he spent a good deal of time there.
So, whether you are drawn to the stars in the sky, by way of a mountain hike, or pulled to the stars of the silver screen (like Williams), there are so many alluring draws like these, and more. And they all await you in that big, beautiful, bold City by the Bay. So, what are you waiting for?