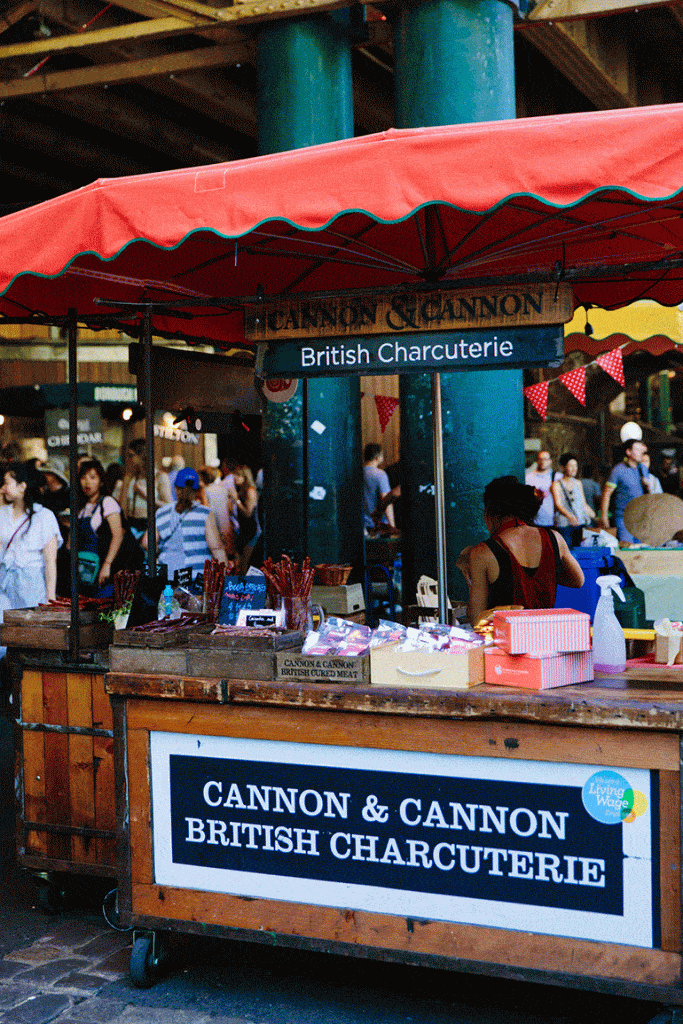 Visiting London on a Budget
It's no secret ­– London is bloody expensive.
In fact, the World Economic Forum ranks London as one of the top ten most expensive cities in the world. But, that doesn't mean that the city is inaccessible to those traveling to London. Approach your trip to London with a Winston Churchill-esque ethos: Where there's a will, there's a way.
With a bit of advance planning, you can maximize your stay in London on a shoestring budget. Apart from the cost of lodging, ye ol' Londontown is actually one of the best cities in the world to visit when you are traveling on a budget. (Even accommodation, though, can easily be made more affordable by staying in a London hostel or a budget hotel.) There are oodles of free museums in London, affordable street food, and gorgeous parks through which to roam.
Here are Fat Tire's top travel tips of places to visit, and things to do, when exploring the Big Smoke with a pocketful of tourist dreams and a few pounds in your wallet to spare. 
Museums
All – but one – of the following attractions are entirely free, and well worth your time, too. The National Gallery is the place to roam if you love grand, gorgeous museums full of paintings you've seen in art history textbooks. The British Museum is where you can see the seminally important Rosetta Stone – among many other historical artifacts.
At the British Library, you can see original writings from Jane Austen, works by John Lennon, and even early drafts of Harry Potter books from J.K. Rowling. The Natural History Museum is the most fun of the bunch, with views of rotating globes, dinosaur skeletons, long-dead animals, and more.
At the Tate Modern, colorful works by Andy Warhol, Pablo Picasso, Mark Rothko, and Salvador Dalí can be admired. You may note that the most famous works at Tate are heavy on testosterone – why not brush up on your British female history at the Florence Nightingale Museum? It's right across the river from Big Ben, and tickets are only £7.50.
The Wallace Collection likely would not top many "musts" lists (though it does mine). But if you're traveling to London and you appreciate hidden gems, then you absolutely want to stop by the Wallace. Rooms filled with armor will make you wonder if you've stepped into a summit of King Arthur and his roundtable knights.
Bookshops & Window Shopping
For the bibliophile travelers, two bookstores are a must for browsing (or shopping) on your visit: the legendary Foyles on Charing Cross Road, and Daunt Books on Marylebone High Street. Foyles is multi-stories high, carries over 200,000 titles, and has four miles of bookshelves. The bookstore also boasts a beautiful café where you can rest your feet and sip a latte and nibble at a scone while diving into your new book. Daunt Books will have you feeling as if you've stepped into a time machine as you walk the perimeter of its book-lined indoor balcony in the back room.
If you're a fan of window shopping, be sure to visit famous department stores Selfridges, House of Fraser, and of course, the one and only Harrods – a favorite of my grandmother, Jen, who loved to do her Christmas shopping there every year. If you happen to be visiting London in December, definitely stop by Harrods – it'll make your trip all the more festive and magical. 
Parks
London is famous for its parks, notably Hyde Park, Regents Park, and St. James Park. Their lush greenery and peaceful calm will have you wanting to move in amongst the swans and the squirrels in no time. Experience a handful of London parks on the Fat Tire Tours' Royal Bike Tour for an efficient, economical, and fun use of your time.
Food & Drink
Like any big city, you can thoroughly enjoy London while traveling on the cheap with a few tips and tricks. Stop at grocery stores, like Tesco or Sainsburys, to buy breakfast fixings and skip eating breakfast at restaurants and cafes. Pack sandwiches for lunch to eat on the sun-dappled (hopefully) steps of museums like the National Gallery. Shop at Borough Market or Portobello Market in Notting Hill for some mouth-watering street food. Drink local brews (rather than imported beers) for lower prices, and snack on-the-go. Pack a water bottle to refill every day, too, rather than buying water while out sightseeing.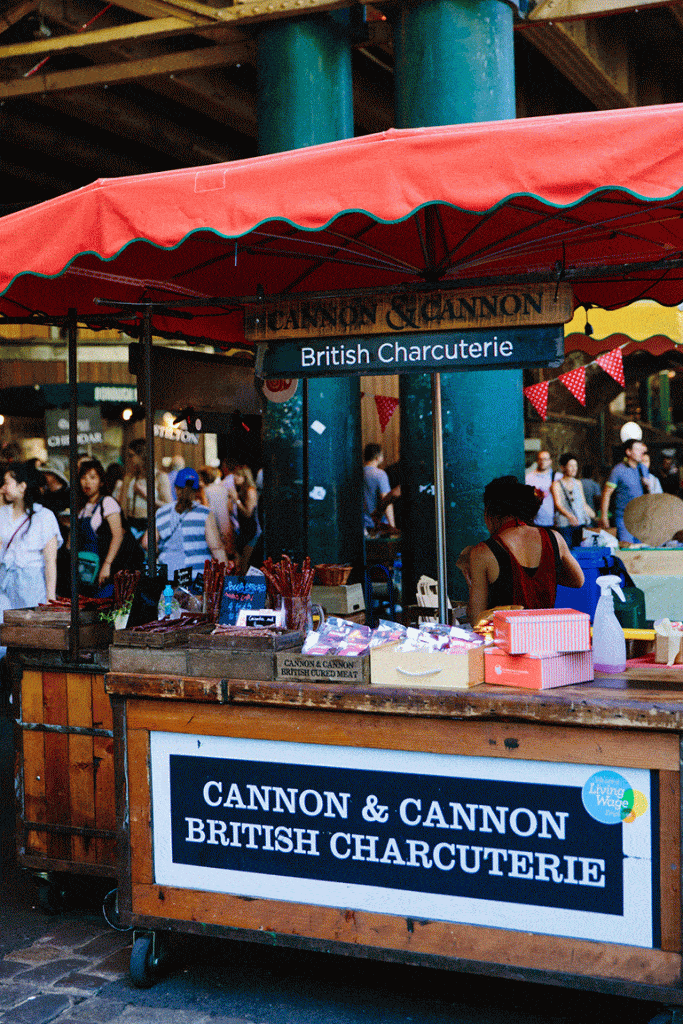 Theater
Things have changed since the days of Shakespeare in 1600s London when admission to an indoor theater cost as little as 6 pence. But, that doesn't mean theater in London can't be done on the cheap. Shakespeare's Globe Theatre offers "groundlings" tickets. For £5 you can stand on the "ground" (the Yard) of the theater, and watch Othello or Macbeth or Romeo and Juliet while standing. Be sure to wear comfortable shoes!
The season runs in summer months; during winter, shows can be seen at the Globe's Sam Wanamaker Playhouse, which offers "standing" tickets for a mere £10. Tours of the Globe run yearly, too. At £17, the Globe tour is a steal for history buffs and theater-lovers.
As Shakespeare himself wrote: "All that glitters is not gold." The most expensive tickets are not necessarily the best ones – theater can be enjoyed from all angles. In years past, I've attended many West End musicals and Royal Ballet performances, all thanks to the little-known, budget-friendly trick that theater-lovers swear by: obstructed view seats (sometimes called "restricted view"). Yes, you may have to scooch a bit to your left, or to your right, to angle your neck around a set piece or a column, but this is a surefire way to see that show you've been dying to see and still afford to eat lunch the next day. Vendors like TKTS London are a good place to start when you're eyeing tickets.
Instagram Photo Ops:
Beef up your social media with some exciting pics from your travels (and feel free to tag @fattiretours on Instagram when you make it there – we'd love to connect with you on your adventures).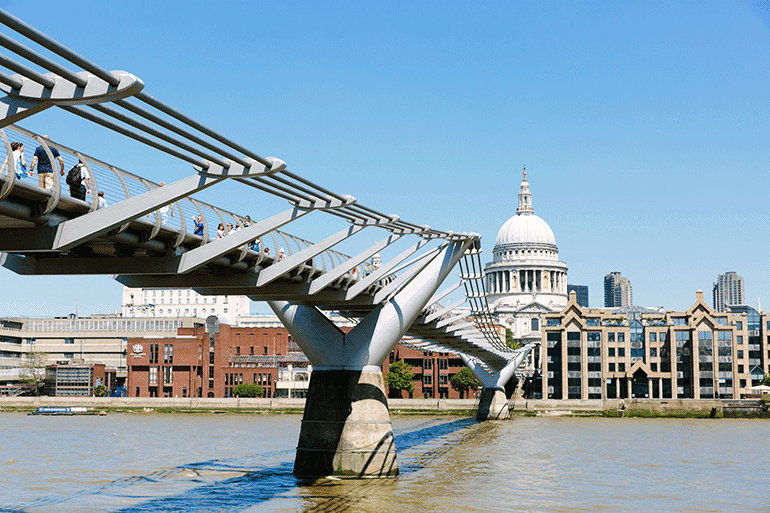 The Sherlock Holmes Statue outside of Bakerloo Station, Millennium Bridge, Big Ben, and that infamous Notting Hill flat with the blue door, where Hugh Grant's character lives in the film Notting Hill – are all picture-perfect photo-opp spots to capture your adventures for posterity.
Free Activities
Most people have heard of the famous Changing of the Guard at Buckingham Palace, which is a thrilling sight to behold. But few know about the Ceremony of the Keys at the Tower of London. And it is indeed something special; the ceremony is a reenactment of a centuries-old monarchial tradition in which a sentry asks: "Halt, who comes there?" A Yeoman Warder informs the sentry, "The keys."
This 700-year-old nighttime ceremony is free to experience, but you must pre-book in advance to get your free ticket. This event is exceedingly popular, however, and it is recommended that you book 12 – 18 months in advance of your visit. (At present, there are no tickets available until February 27, 2020.)
So, if your trip to London is an impromptu one, you'll likely be inclined to forgo this activity – that said, never hurts to try; when bookings are canceled, tickets open up last-minute, so it's worth checking. Crazier things have happened (my roommate just won the Broadway Hamilton lottery yesterday and was seated front-row center!).
So, cheers to your night – and daytime – adventures in exciting Londontown. I'll be raising a glass of Buck's Fizz in your honor, and wishing you well on your journey through the fascinating, storied, bustling hub that is London.