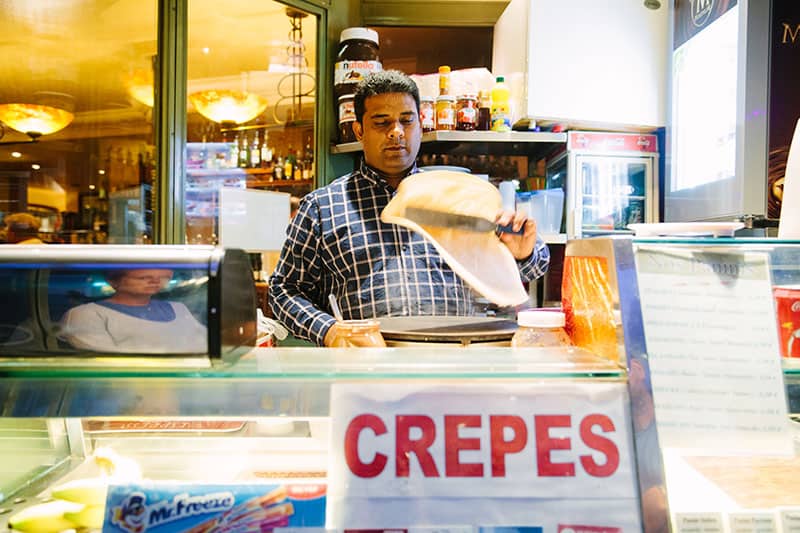 The Ultimate Paris Food Guide (Updated 2020)
Paris is world-renowned for its sights, as well as its food scene, and we've compiled a round-up of the best of the best: restaurants in the Latin Quarter, places to find authentic French food, bakeries with the best baguettes, quirky restaurants, and more (along with a few "eating in Paris" etiquette tips).
Pack your appetites with you, because there's so much to devour in the City of Light!
Quick Links: Best Latin Quarter Restaurants | Where to find Authentic French Food | Best Parisian Terraces | Quirky Spots | Best Bakeries | Best Macarons | Best Ice Cream | Etiquette Guide: Tipping, Service, and more!
---
Best Restaurants in the Latin Quarter
La Truffière, 4 Rue Blainville, 75005
This gastronomic restaurant is modern and creative, and boasts a carefully selected menu by chef Jean Christophe Rizet. The service is as excellent as the food presentation. And it's said that the cheese plate here will blow your mind.
Le Lutin dans Le Jardin, 15 Rue Gît-le-Cœur, 75006
Le Lutin dans le Jardin is a small, cozy restaurant that specializes in regional cuisine. If it's on the menu, you have to try the foie gras!
La Tour d'Argent, 15 Quai de la Tournelle, 75005
This world-famous restaurant overlooking the river and Nôtre Dame also serves stunningly delicious food and wine. Eating at La Tour d'Argent is a must for special occasions, and be sure to book in advance as a table here is highly sought-after.
Sola, 12 rue de l'Hotel Colbert, 75005
Fabulous French-Japanese fusion food at a great location, down a side road a few steps away from Nôtre Dame and the famous bookstore Shakespeare and Company. The service and quality have received rave reviews.
La Cuisine de Philippe, 25 Rue Servandoni, 75006
Intimate but not crowded, the restaurant is typically Parisian. Soufflé fans – this one's for you.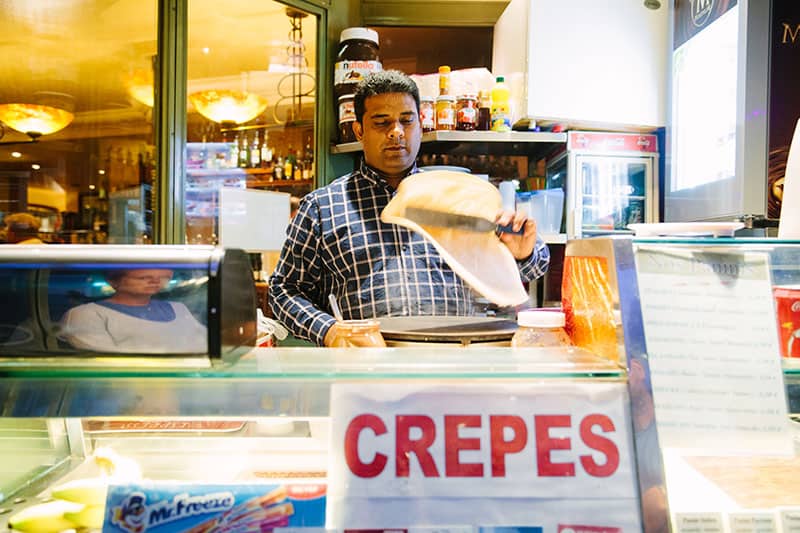 Authentic French Food Restaurants
La Poule au Pot, 9 Rue Vauvilliers, 75001
The most traditional of all these suggestions, the Poule au Pot is famous for its eponymous dish: a delicious boiled chicken. The decor is authentic, and the atmosphere is welcoming.
Au Pied du Sacré Coeur, 85 Rue Lamarck, 75018
If you find yourself with a hungry stomach in the 18th arrondissement, then you should reserve a table at Au Pied du Sacré Coeur. Loved by both Parisians and tourists, this is a real little "bijoux" (gem)!
L'Ourcine, 92 Rue Broca, 75013
L'Ourcine is located just off the 5th arrondissement, down a quiet road. The food is fresh, homemade, and well-presented. Tables may be a bit close together, but that's Paris for you.
Creperie Josselin, 67 Rue du Montparnasse, 75014
The 14th arrondissement is known for its population of Bretons, and subsequently for its excellent Breton eateries – creperies, in particular. It has a wide range of both savory and sweet crepes and excellent cider.
Pottoka, 4 Rue de l'Exposition, 75007
In this arrondissement, it's almost impossible to find a restaurant that isn't overpriced, but Pottoka is one of the few exceptions. Great food and a menu that changes regularly.
Best Terraces in Paris
Hôtel Amour, 8 Rue de Navarin, 75009
Tucked away from the bustling Rue des Martyrs on a small side road is the Hôtel Amour. Make your way to the back to find their charming garden/terrace. At night they light candles, making it the perfect place for you to bring your amour.
Café A, 148 Rue du Faubourg Saint-Martin, 75010
In this old convent-turned-bar/restaurant, they host exhibitions and concerts. Walk into the entrance of the Maison de l'Architecture, and under the arches, turn right and push through the doors into the café. Keep going straight, and you'll come out the other side into the peaceful graveled garden.
La Bellevilloise, 19-21 Rue Boyer, 75020
For a livelier experience, try out the Bellevilloise. It's known as a bar, nightclub, and concert hall, but the food is also good, and the outside space – with olive and palm trees hanging over the tables – is unique.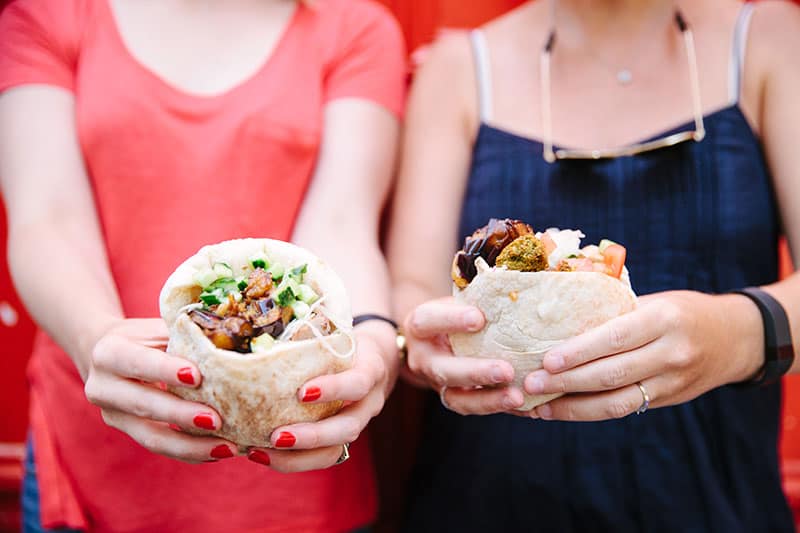 Quirky and Unusual Restaurants 
Dans le noir?, 51 Rue Quincampoix, 75004
The restaurant is pitch- black, and you are served by blind staff. Rest your eyes from all the sightseeing and concentrate on the different flavors put in front of you without knowing what you're eating.
La Gare, 19 Chaussee de la Muette, 75016
La Gare is in Paris' 16th arrondissement, in the former space of the "Passy-La-Muette" train station. They've kept the high ceilings, train tracks, and red brick walls, but now it's one of Paris' largest restaurants with a lovely terrace outside.
La Refuge des Fondus, 17 Rue des 3 Frères, 75018
They serve wine in baby bottles and you have to climb over the table to get to your seat, but those elements and more are what make Refuge des Fondues such a fun, laid back place, with delicious cheese fondues.
La Table des Gourmets, 14 Rue des Lombards, 75004
Follow the steps downstairs, and you'll find yourself seated in a 12th-century underground chapel. The atmosphere is calming and almost surreal.
Best Bakeries in Paris
Here are a couple of our favorite bakeries. Found all over Paris, bakeries are plentiful in Paris. Pro tip: frequent the ones with the longest lines!
134 RdT, 134 rue de Turenne, 75003
The award-winning 134 RdT bakery located in the upper Marais is truly a sight for sore eyes. Loaves and loaves of scrumptious baguettes are stacked against traditional, timeworn stone walls. Take note: this bakery is closed all day Sunday.
Du Pain et Des Idées, 34 Rue Yves Toudic, 75010
Baker Christophe Vasseur formerly worked in sales but gave it all up at thirty to pursue his dream of being a professional baker. He has been named "The Best Baker in Paris"!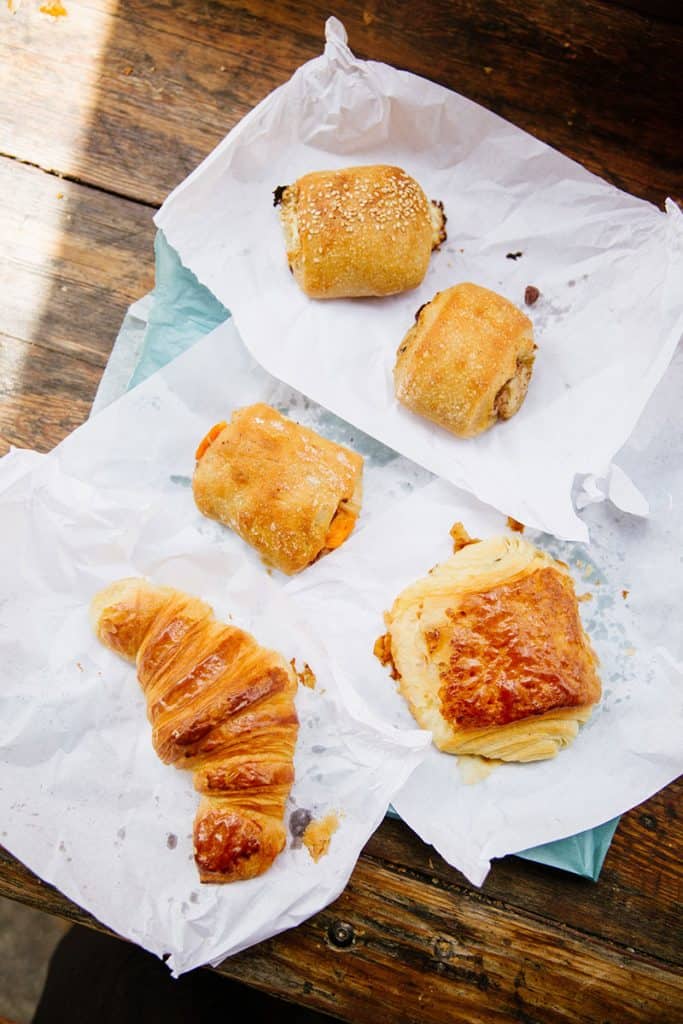 Paris's Best Macarons
Let's get the elephant out of the room and start with the granddaddy of all pâtisseries, Ladurée. It has a cult following but, predictably, there are many who say that it's overrated. You'll just have to go, queue, and judge for yourself!
The Parisian's favorite pâtisserie, Pierre Hermé, is the go-to tea shop for those who find Ladurée over-commercialized. They're famous for their unusual combinations like white truffle, and the picture-perfect rose with raspberries.
Known predominantly as a chocolatier, Jean-Paul Hévin also makes delicious macarons. Combine both specialties and try the chocolate flavor for sugary heaven.
For the more experimental, you must visit Sadaharu Aoki for their Japanese-fusion macarons. A favorite is matcha (green tea), but we've heard that black sesame is excellent, too.
Hugo et Victor's macarons are more subtle than those of other pâtisseries. So, it's a nice break from the typical super-sweet macarons. Try the combawa, or kiffir lime flavor.
Best Ice Cream in Paris
Berthillon, 29-31 Rue Saint-Louis en l'Île, 75004
The famous Berthillon ice cream parlor is actually closed during the summer (so French!). But for the rest of the year, you'll see people queuing – sometimes around the block – for a scoop of their luxury ice cream. This is where we stop on our Paris Night Bike Tour.
Grom, 81 rue de Seine, 75006
Grom has seen rapid success and now has parlors all over the world. Not only are their flavors delicious, but they're also known for their food-intolerance-friendly options.
Raimo, 63 Boulevard de Reuilly, 75012 Paris
The owners of this French "Glacier traditionnel" still use the same recipes from the 19th century, sticking to natural seasonal ingredients.
Le Bac à Glaces, 109 rue du Bac, 75007
Bac à Glaces is a Parisian ice cream favorite, located in the ultra-chic 7th arrondissement. The "Palette Dégustation" with six different flavors is a great idea if you can't choose!
Glaces Glazed, 54 rue de Martyrs, 75009
Recommended by David Lebovitz, and for good reason. You can expect the most intriguing and unusual flavors and combinations.
Une Glace à Paris, 15 Rue Sainte-Croix de la Bretonnerie, 75004
Boasting an owner with the title "Meilleur Ouvrier de France – Glacier" (essentially, best iced-dessert maker), how could you resist Une Glace a Paris? With no less than three flavors of vanilla and delectable combinations like orange, carrot, and ginger, there's an ice-cold treat for everyone.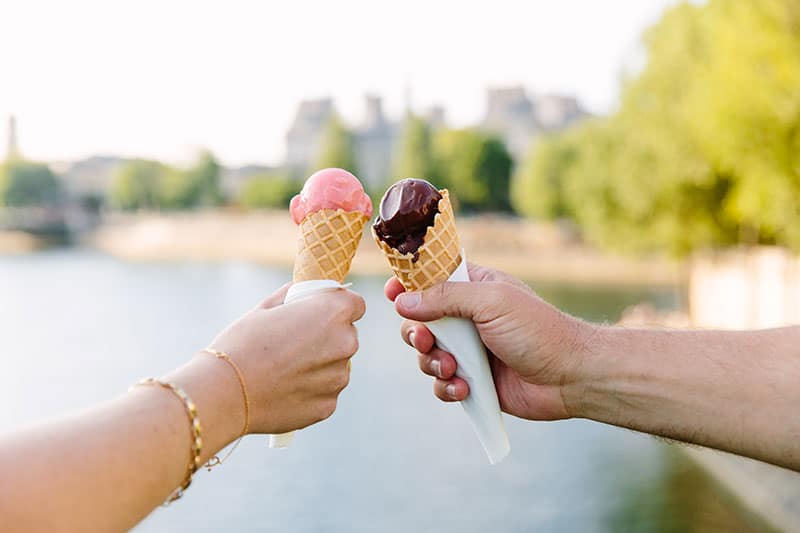 Etiquette Guide in Paris
France has a few "Do's and Don'ts" that may be useful to know beforehand so as to avoid any cultural misunderstanding.
Timing
In Paris, people sit down for dinner from 7:30pm, at the earliest, to 9:30pm. Earlier clients will probably be the British, the severely jetlagged, or families with children. Customers who turn up after 10pm are usually Italian.
Ordering
Suggesting variations to a plate is interpreted as insulting the chef's taste. So, it's best to avoid doing this unless you have a food allergy.
Water
Tap water in Paris is very safe to drink. Ask for "un carafe d'eau" to get some for the table.
Bread
Most restaurants in Paris will give you a little basket of bread to snack on while you are waiting for your food. Unless you are in a very tourist-friendly area, butter is not served. Ask, and you'll get some, just don't sit waiting for the butter to arrive, because it won't.
Doggy Bags
In many Parisian restaurants, doggy bags are simply not done.
Getting the check
Asking for the bill is simple: catch the eye of your server and perform the "writing a check" gesture in the air. If the waiter comes over, a quick "l'addition s'il vous plait" will do.
Tipping
Where tips are concerned, it is normally considered acceptable to leave a few euros on the table to say thank you to the staff.
The most important thing, of course, is to enjoy your meal, so bon appétit!
Related links:
[maxbutton id="1″ url="https://www.fattiretours.com/paris/tours-activities/search/q//toursOnSale/false/familyFriendly/false/Type/Food_Tour/AttractionsVisited/all/TimeOfDay/all/TourDuration/all" text="Join us for a Paris Food Tour!" ]