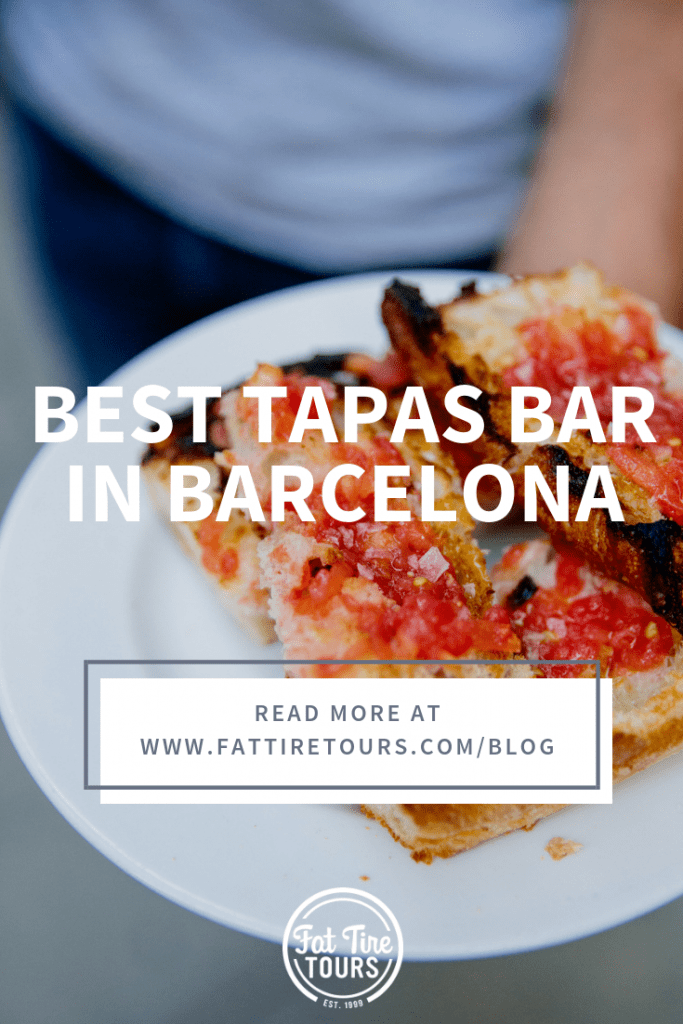 El Xampanyet: Barcelona's Best Tapas Bar
By Julie Neis
If you're looking for an ideal quintessential tapas bar to go to in Barcelona, head straight to El Xampanyet, located on a narrow, cobblestoned street near the Picasso Museum. This charming, bustling tapas bar is named after their Cava (Spanish sparkling wine) that they make in house.
El Xampanyet has the exact feel that you're hoping every tapas bar will have – a feeling of age and history mingled with an air of joviality, and of course, good food. It's wildly popular, and it's a small space, so that means everyone is packed in tight like its famous anchovies might have been in another life. Here, the anchovies are fresh and unsalted, served in a bit of vinegar.
They don't take reservations, so arrive early when they first open if you hope to snag a table. Otherwise, just show up and elbow your way in to the fun.
The zinc bar is lined with colorful bites and friendly staff. There are old wine bags hanging from the ceiling and oddly shaped wine bottles aging who knows what on the shelves. Everyone crowds around the counter in an effort to order their tapas. If you can get a spot at the bar, it's fun to eat there and watch all the action.
[maxbutton id="1″ url="https://www.fattiretours.com/barcelona/tours/night-tapas-tour-flamenco-show" text="Book Your Tapas Night Tour Now!" ]
Order a glass of their house-made Cava for a mere 1.80€, or splurge on a full liter for just 10€.
As for what to eat? They make an excellent tortilla (A Spanish "tortilla" is a sort of omelette made of eggs and potatoes), and theirs has chorizo for an extra kick.
Their Galacian octopus (pulpo) is sprinkled with paprika and served on a bed of creamy mashed potatoes. I saw a dish of grilled beef tenderloin with padron peppers that I thought about the rest of my time in Barcelona.
Here, they are known for their conservas, which is technically food preserved in cans or jars, but here, you'll find only the highest quality. That means that you'll be having the gourmet version of what you think you don't like (looking at you, anchovies). Go out on a limb and try something new.
The staff are friendly, but they are busy, and they may not speak English. If you don't speak Spanish, go armed with a handful of food items you can order (tortilla, pulpo, boquerones en vinagre). Other than that, go with a willing attitude, a smile, and ready to point at what you see that looks good.
You will be genuinely squeezed in with your friends and the strangers next to you, but that's part of the fun. It's cheerful and chaotic, filled with young tourists and aged locals. This particular tapas bar has been around since 1929 and has been in the same family since the 30's.
When it comes to an authentic tapas bar, look no further than our Barcelona Night Tapas Tour with Flamenco Show. We will get you a bottle of Cava and you can enjoy the ride.
El Xampanyet
Carrer de Montcada 22, Barcelona 08003, Spain
Hours: Tuesday – Saturday: Noon – 3:30PM, 7:00PM – 11:00PM, Sunday: Noon – 3:30PM
Phone: +34 933 197 003

Follow along with Julie's day to day foodie adventures at www.parisfoodaffair.com and on Instagram at @parisfoodaffair!
Visiting Barcelona? Discover how to spend the perfect 24 hours in this iconic city. Also, check out other top restaurants in Barcelona.