This article was written and contributed by our partner, Ben Ogden from Newy Rides in Newcastle, NSW Australia. His tours are featured on the Fat Tire Tours Bike Tour Network, and you can learn more about his offers below.
Why The Hunter (NSW) shouldn't be left off your Aussie itinerary
Australia's borders are open to international travelers. Truly, if you are double vaxxed, have a passport and have a spirit for adventure then Down Under is now yours to explore.
Here's some sound advice. You should absolutely visit Sydney, but once you're done – get out of there!
New South Wales is jam packed with some epic short trips for touring travelers all within just two hours north of Sydney.
Welcome to the Hunter region. The Hunter needs no introduction to those that live in Sydney as it's been a must-do for many long weekends. The region is known for its epic coastline, viticulture (that's wine folks…and lots of it!) and truly everything an adventure calls for i.e. great food, outstanding drinks, breathtaking views and scenery, Aussie animal encounters and quality accommodation.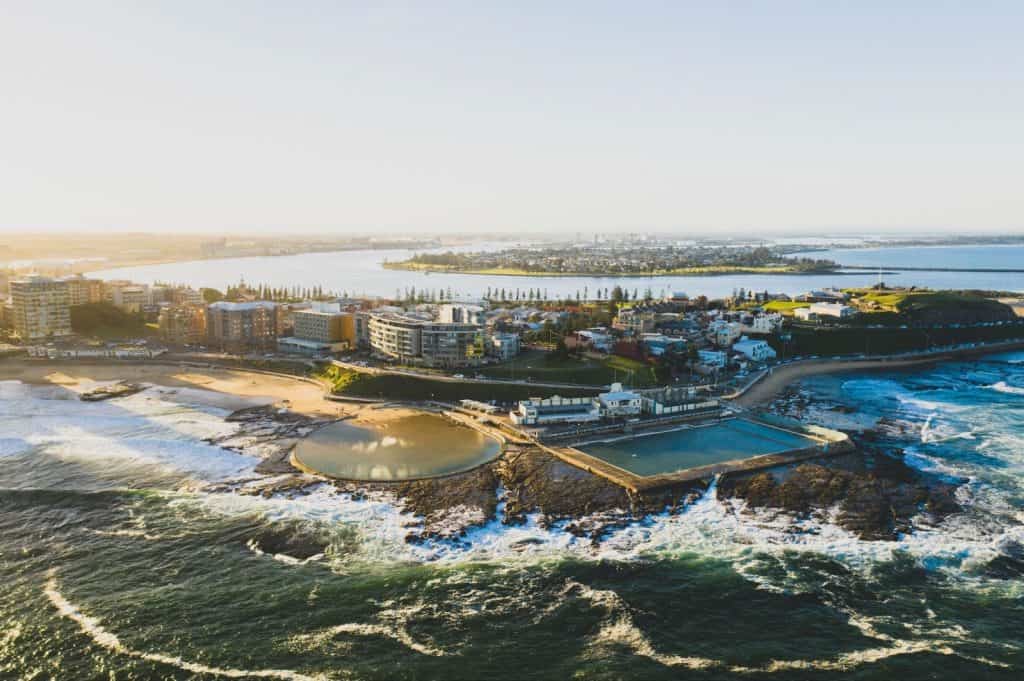 Located a short 2 hour drive from Sydney's CBD (central business district) you can be quaffing Shiraz in the Hunter Valley (that's Syrah for you Euros), swimming with dolphins in Port Stephens or living it up in Newcastle, tying together the best of everything.
Let's dive in.
Newcastle, Australia
'Newy' as the locals call it is the second biggest city in NSW (New South Wales) – but don't let that scare you off. A buzzing regional hub, Newcastle is one of Australia's most progressive regional centres boasting a burgeoning dining scene, small bars, art galleries and some amazing history to wrap your head around (also NSW's second oldest city).
We recommend you base yourself in Newcastle in order to discover the Hunter region as the wine region is just 45 minutes away and you can be in Port Stephens within 30 minutes.
Newcastle truly has it all, besides the aforementioned nightlife the coastline and it's beaches are something to behold. It's a city with a CBD on the beach! That's almost unheard of in Australia. Surrounded by national parks with hiking trails galore, there is so much to do and see here.
Our top recommendation is to get on a bike (Newcastle is a very bike friendly city) and sample the best of it all. Ben from Newy Rides runs all-inclusive bike tours that tie in a little bit of history with the changing face of Newcastle with its lively art scene and producers galore. Think natural wine, views of the coastline, street art, G&T's and locally loved food stops, a Newy Rides tour is the perfect intro to Newy to paint a wholesome picture of what it's all about.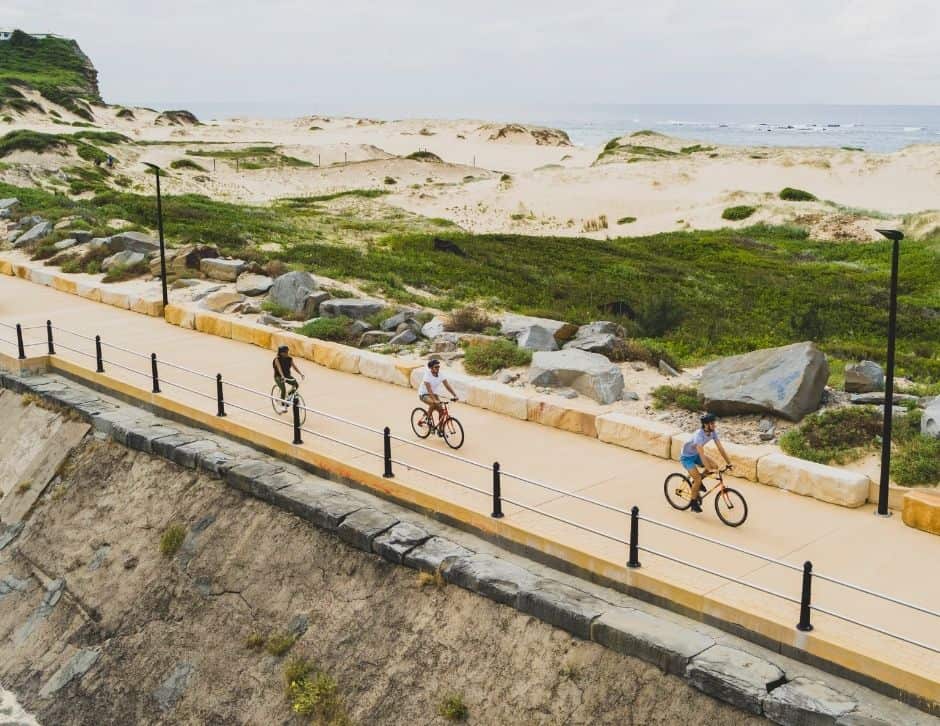 Port Stephens
Starting just 30 minutes from Newcastle is Port Stephens. Stunning beaches aplenty, the region is known for its dolphins and whale watching encounters, luxury and family friendly accommodation, it's a great place to unwind and soak in the Aussie summer.
We recommend a visit to Shoal Bay to hike the famous Mt Tomaree followed by a swim in the clear waters of the beach below. Stick around for a drink at Shoal Bay Country Club (or a meal at Atmos next door).
Don't miss a visit to Port Stephens famous sand dunes if you're looking for an activity. Of huge cultural significance to the Worimi people, the Indigenous custodians of the lands, the sand dunes are huge, stretching on for miles and often serve as a backdrop to many film shoots and tour experiences.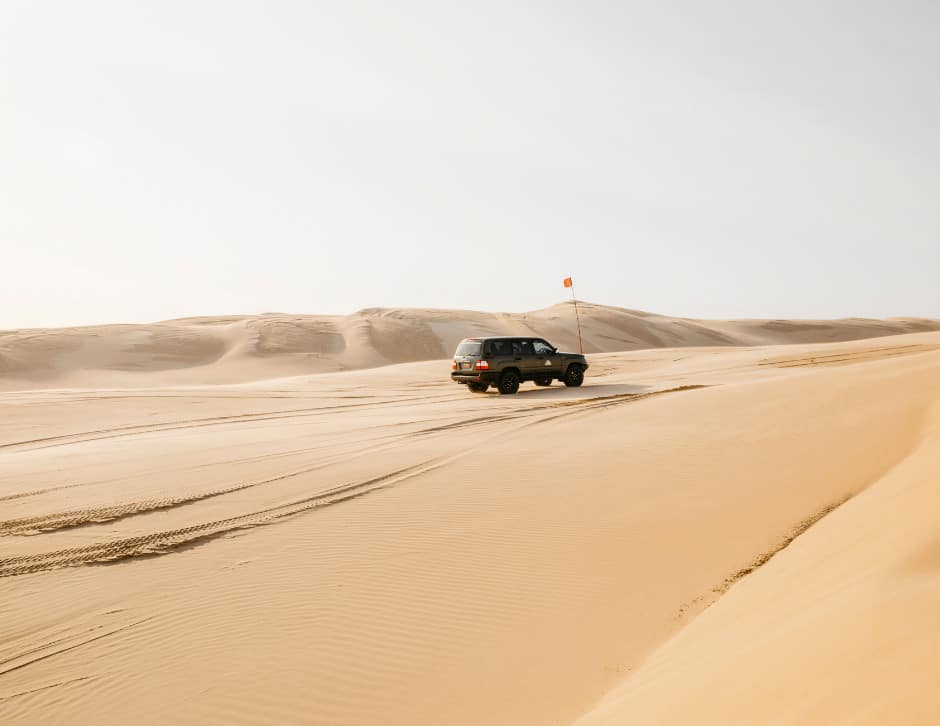 Hunter Valley
If food and wine is more your thing then the Hunter Valley has it in spades. With 150 wineries and cellar doors dotted around the green hills a visit to the Hunter isn't complete without a tasting at one, two, three or 10!
There are food experiences to be had too, with chocolatiers, cheese makers, hatted restaurants (Australia's version of Michelin stars) and casual eateries there is something for everyone, and every budget.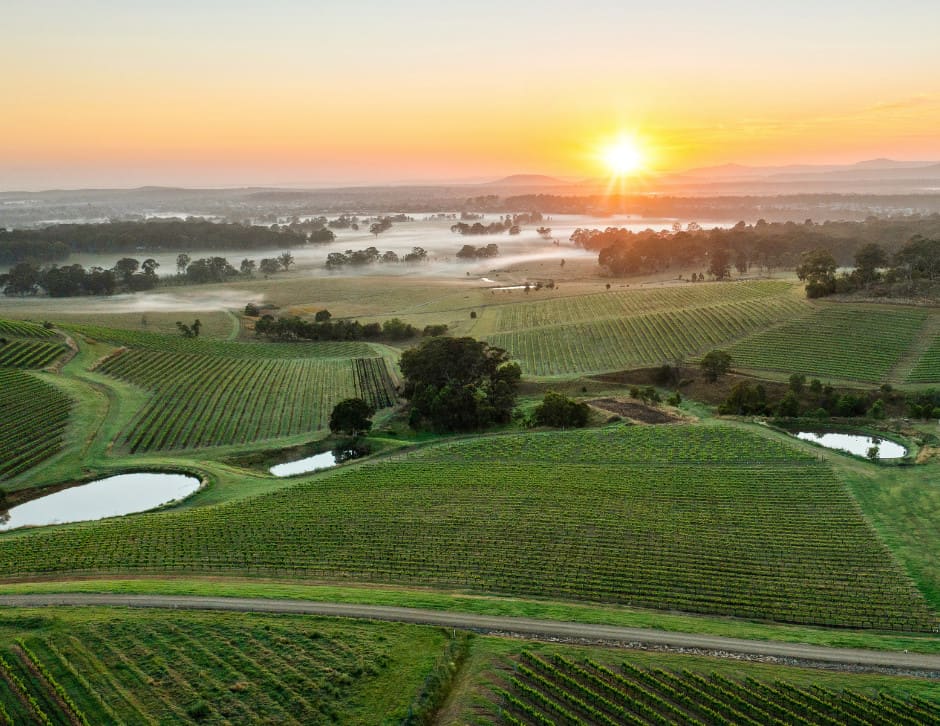 Getting There:
Drive: Newcastle is a short two hour drive from Sydney. A further 30 mins will get you to Port Stephens and 45 mins will bring you to the Hunter Valley vineyards.
Rail: Board a train at Sydney Central Station and arrive in Newcastle 2.5 hours later with connections to other towns in the Hunter region. There is a bus connection to Port Stephens towns. We recommend you hire a car, drive to the Hunter Valley vineyards or join a tour.
Fly: Newcastle Airport is aptly located in between all 3 locations with direct flights available from Melbourne, Brisbane, Canberra and other Australian cities. Newcastle Airport is expanding its international flight capabilities by building new runway infrastructure.
---
The Hunter region is not to be missed! We hope that you can experience this beautifully diverse corner of the world soon, and we would love to welcome you on a bike tour while you're here!
Newy Rides is a proud member of the Fat Tire Tours, Bike Tour Network.