Blog
Local Experiences
If I Could Choose Only One Thing to Do in Paris: Visit Shakespeare and Company Bookstore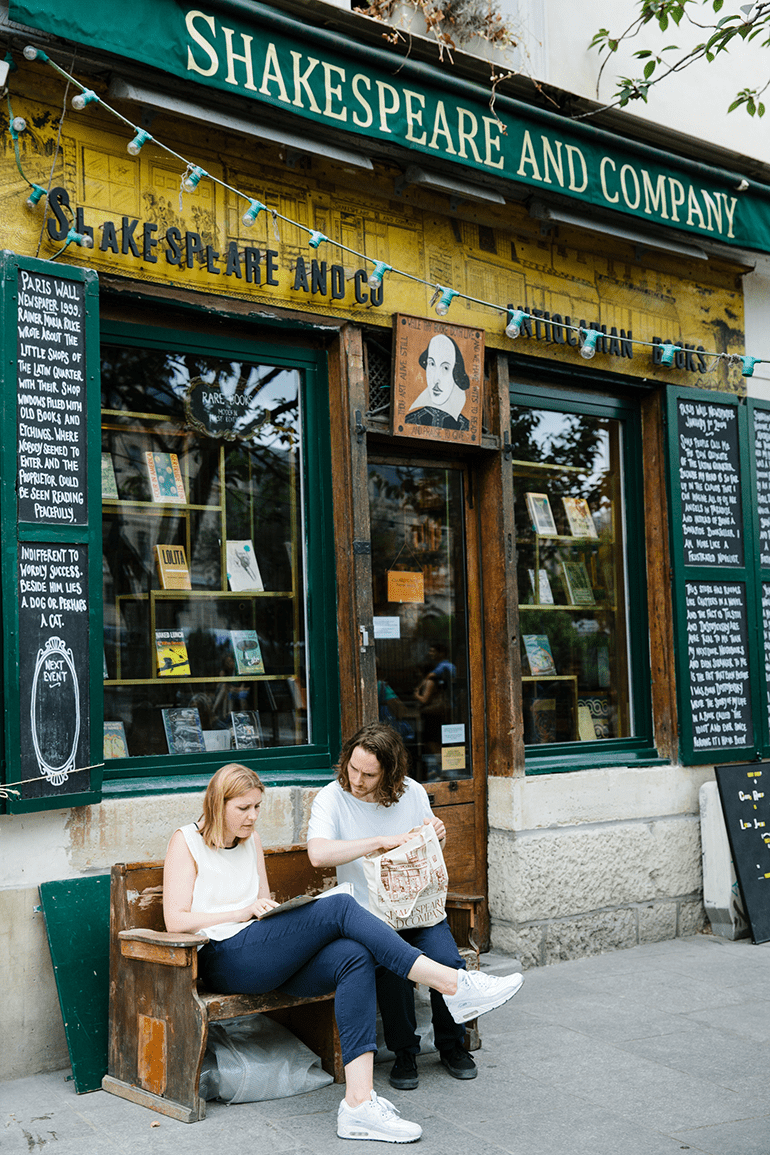 If I Could Choose Only One Thing to Do in Paris: Visit Shakespeare and Company Bookstore
Nestled on the Left Bank of Paris, along Rue de la Bûcherie, and just across the Seine river from Notre Dame sits a very famous bookstore. For some, it's the singular most famous bookstore. Book lovers and bibliophiles travel from far and wide to visit this shop. Of course, I'm talking about: Shakespeare and Company Bookstore..
Paris is a city – like any big metropolitan area –  that is ever-changing. There are so many worthwhile ways to spend your time in the City of Light, and countless ways to fill your belly in this global culinary capital.  Exploring the city – and its outskirts – by bike or by foot, day or night, is the best way to make the most of your trip. Sure, you'll want to hit the highlights: the Louvre, the Eiffel Tower, and that place where Bey and Jay ate lunch that one time (Le Septime). Another thing, however, is that you want to be sure to rest and recharge, so you don't get burnt out. (In the famous words of Oprah: "If you don't recharge a battery, it dies.") And what better place to rest and recharge than on a cozy chair in a bookstore in the heart of Paris?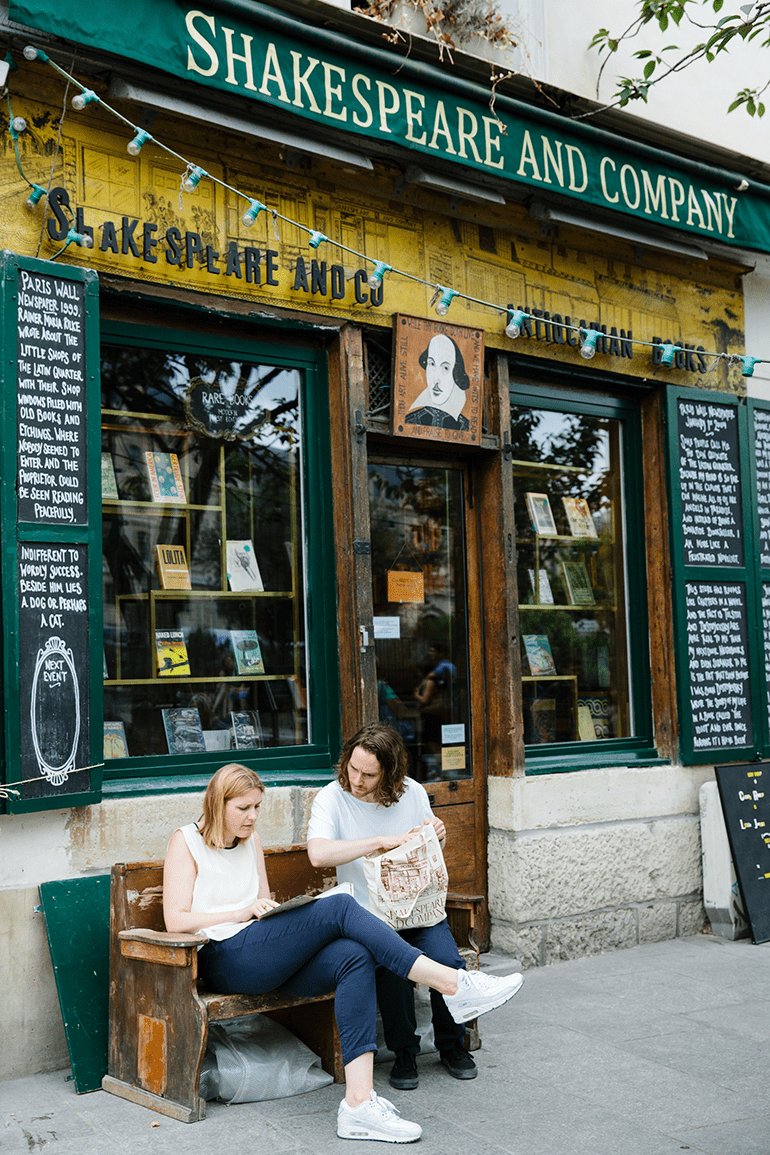 If I could do just one thing in Paris, I'd visit Shakespeare and Company Bookstore. In fact, it's ordinarily one of the first things I do on any visit to Paris. Land at CDG, drop my bags at my friends' apartment in Montmartre, then take the metro to Cluny–La Sorbonne, and walk to Shakespeare and Company for some browsing, reading, and shopping.
The shop, located at 37 rue de la Bûcherie, is a must for book-lovers. But, it's not only for book-lovers – the bookstore is a must-visit for anyone who gets a thrill from seeing something unique and unusual. But, before we step inside, perhaps best to discover a bit of the shop's history. (After all, with knowledge of context and background, things generally tend to become more interesting and engaging.)
When George Whitman set out to establish Shakespeare and Company at its current location, he was by no means a trailblazer (though, he was in many other ways one). Discharged from his military post in Greenland in 1946, Whitman decided to move somewhere new; somewhere that he knew would give him the opportunity for new experiences and adventures.
That somewhere was Paris.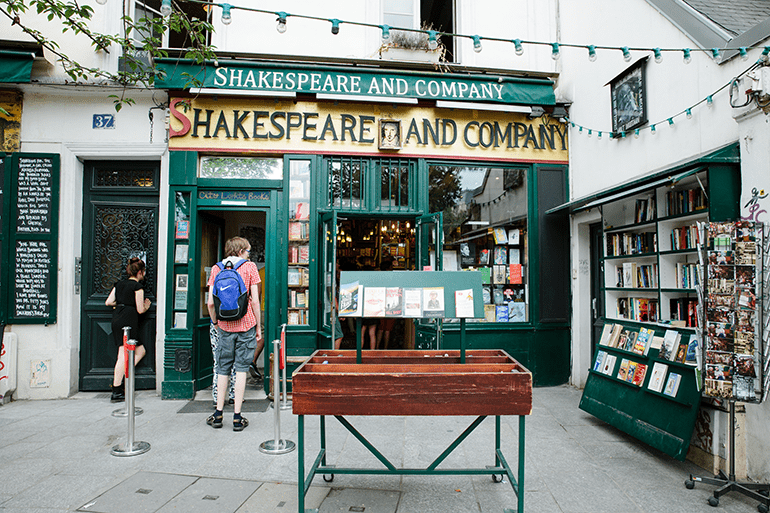 Once in Paris, Whitman opened up a bookshop, on the advice of a friend. And, at that, the second Shakespeare and Company – the one at 37 Rue de la Bûcherie – was born. The bookshop quickly became a hub of culture and literature for Parisians of the time; some transient, some longtime locals, and some, part of the beat generation, who'd left the U.S. in favor of France. James Baldwin, Henry Miller, Allen Ginsberg, Anaïs Nin, and more, all enjoyed the lively and enriching atmosphere of the English language bookstore (which also acted as a lending library, or, in the case of some, their personal bookstore where they never paid a dime.)
One of the most notable things about the bookshop is how, as decades came and went, the shop housed thousands of young creatives and aspiring writers. They'd sleep at night in the reading rooms. Whitman called the bookshop's residents "Tumbleweeds," and proclaimed himself to be one too – "blowing from place to place, sheltered by the grace of strangers."
They were (and still are, as the informal program still exists – learn more here) assigned duties in the shop in exchange for a free place to sleep at night. Additionally, Whitman requested that all Tumbleweeds read one book per day, and write a one-page autobiography for Whitman's archives. A number of before-they-were-famous names passed through the bookshop's doors and slept on the floor at night; among them include: Geoffrey Rush, Ethan Hawke, David Rakoff, and Darren Aronofsky. It is estimated that the bookshop has housed over 30,000 Tumbleweeds.
Whitman incorporated this hospitable environment into his shop as a direct result of the kindness and hospitality he experienced while traveling as a young man. (In fact, in the bookstore, there is Whitman's motto painted on the wall: "Be not inhospitable to strangers lest they be angels in disguise.")
But, this was just the second iteration of the bookstore. To grasp the full picture, let's start at the very beginning – a very good place to start.
Sylvia Beach was a woman with a plan. (Whitman named his daughter Sylvia, in honor of Beach; Whitman's daughter runs the shop today.) An expat from New Jersey, she established the original Shakespeare and Company in 1919 at 8 rue Dupuytren. In 1921, she moved the store to rue de l'Odéon, where it fully flourished and became an integral part of the lives of Lost Generation artists: Ernest Hemingway, F. Scott Fitzgerald, Gertrude Stein, Ezra Pound, and many more. Beach published James Joyce's "Ulysses," after rejection from publishers. The book is world famous to this day. When, during World War II, the Germans came and Paris was under Nazi occupation, Shakespeare and Company shuttered its doors. This byproduct of the war is an exceedingly minor one compared to others, but it was a tragic one for those who loved the shop and the people who filled it.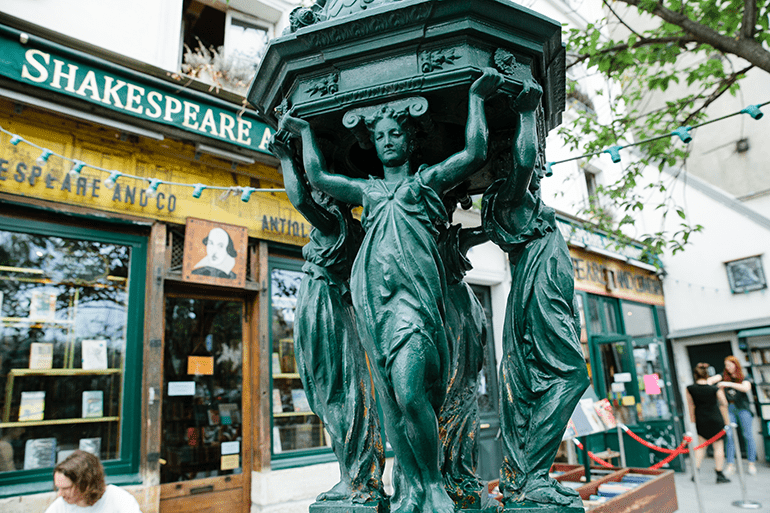 Present-day Shakespeare and Company is, thankfully, alive and thriving. (They even added a café!) And the bookshop is definitely a place to add to your Paris itinerary. It is steeped in history, and even if you aren't much of a reader or a book person, I promise you will enjoy being a voyeur in this magical place. With its creaky stairs, secret book nooks, a piano which welcomes playing, packed bookshelves and hidden finds, the hustle and bustle of readers and tourists and Tumbleweeds all intermingling, and, perhaps most of all – the magnificent view of Notre Dame from the upstairs library. Some have said the bookstore has a Harry Potter wizarding-world-like feel.
If you can't make it to Paris just yet, the indie bookstore also has an online shop where you can order books and souvenirs and gifts. (The Shakespeare and Company classic shop facade tote bag, along with the bookshop's postcards, are always good souvenirs to bring back home for friends; they're found by the registers.)
Whitman was a legend and a visionary. He created a space that came to be – and is today – beloved by so many. Not only beloved, but it's also a place to call home; be it if you're just there browsing for fifteen minutes, or listening to a reading for an hour or two one evening, or there for several weeks as a Tumbleweed – sleeping at night among books, with the Paris stars above the Seine twinkling out the window – on just another magical, storied night in the City of Light.