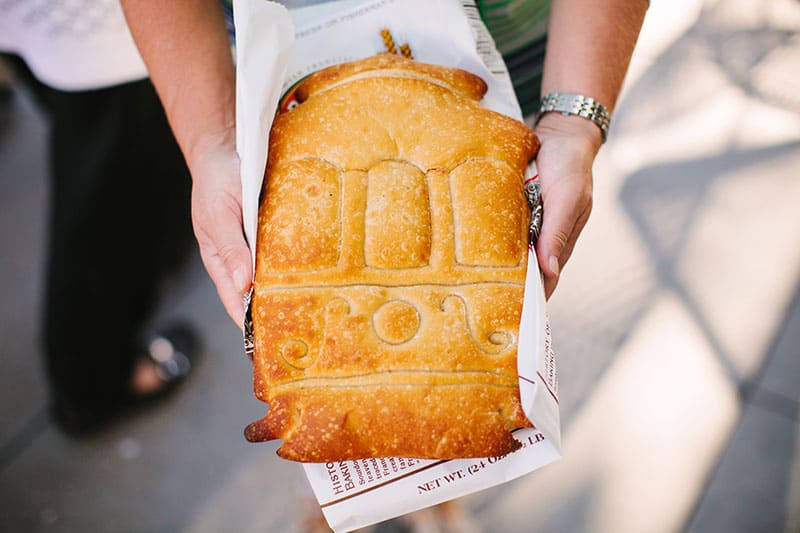 Iconic Foods You Need To Try In San Francisco
One of the best parts about traveling is the food. It gives you the opportunity to taste things you've never had before, or at least, foods that are prepared differently than what you're used to.
San Francisco is a food lovers paradise. It's known for fresh seafood, fluffy sourdough bread, and silky smooth chocolate (to name a few). You're going to find classic flavors and simple dishes that taste better because you're close to the source of where it comes from. For instance, Dungeness crab is native to the cold waters of the west coast of North America and a popular item on menus in the Golden Gate City.
Part of the novelty of visiting San Francisco is eating all of the local foods, no matter how many times you've been to the city. Here are eight iconic foods and drinks you need to try when you visit.
Sourdough Bread Bowl 
Did you know that sourdough bread is one of the oldest forms of leavened bread? Oh yeah, this stuff goes way back. We're talking as early as ancient Egypt. But in 1849, Isidore Boudin baked her version of sourdough bread using flour, water, salt, and mother dough (a wild yeast starter). Since then, Boudin Bakery became known for baking the best loaf of bread in San Francisco. Try it for yourself at Fisherman's Wharf. You can watch a baking demonstration while nibbling on a piece of sourdough. Stay for lunch and order New England clam chowder in a bread bowl. It's a major crowd-pleaser.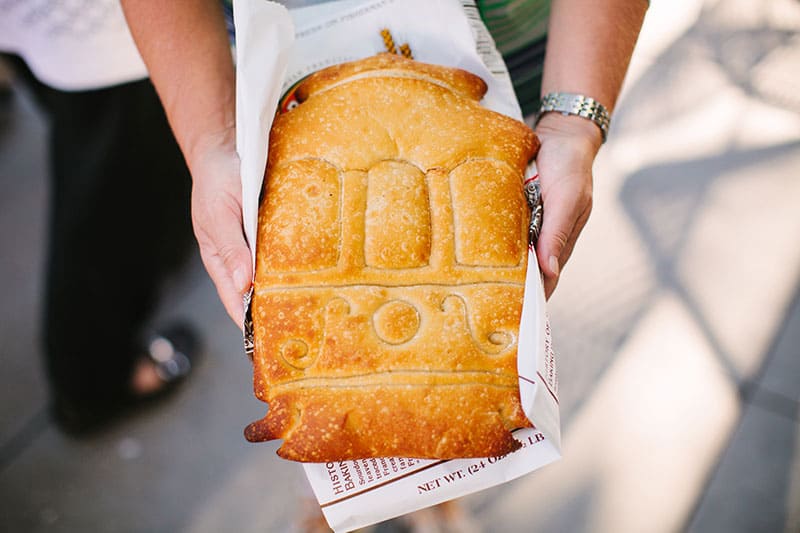 Mission Burrito
After a tour of the highlights of San Francisco, refuel with a Mission-style burrito. How is it different than any other burrito? Well… it's extremely large. Like the size of a small baby kind of large (okay, that's a bit dramatic). But seriously, this particular kind of burrito was created in the 1960s in the Mission District of San Francisco. A gigantic flour tortilla is packed with a heaping pile of rice, beans, salsa, and chopped or shredded meat. It's all piled high, but don't forget that you can make it a "super" which means an added handful of cheese, guacamole, and sour cream. How do they wrap it up? Magic. The best place to find a Mission burrito is La Taqueria El Farolito, which is on Beach Street near Fisherman's Wharf.
Dungeness Crab
On the outside, the Dungeness crab is the perfect example of what this crustacean should look like. It's red, round, and symmetrical. On the inside, it's sweet, flakey, and tender. Dungeness crab is native to the waters of west coast North America. The season to eat it is from November to July. You'll find it on the menu of most seafood restaurants in San Francisco, but the best is from Chart House on Fisherman's Wharf. It comes at a steep price (usually between $40-$50 or market price), but when it's served steamed with a side of melted butter, you just want to get crackin'.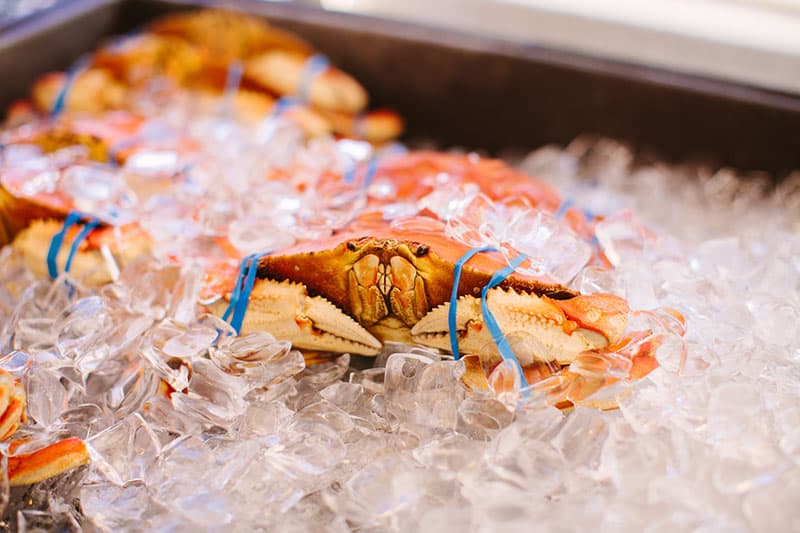 Cioppino
While we're on the topic of seafood, try cioppino when you're in San Francisco. It's a stew made with calamari, mussels, fish, and Dungeness crab that cooks in a flavorful tomato and white wine broth. It's usually served with a side of sourdough bread. This recipe originated in San Francisco, specifically from Italian immigrants in the 1800s. You can find a great cioppino at Sotto Mare, an old school Italian seafood restaurant in San Francisco's North Beach neighborhood. It's especially tasty during a foggy and chilly day.
Irish Coffee
… Specifically from The Buena Vista Cafe. In 1952, the owner of the restaurant challenged a travel writer to re-create the Irish coffee served at Shannon Airport in Ireland. This proved to be a difficult task. It took multiple recipes to get the flavor and foam just right. Finally, they mastered the recipe together, and the goblet sized drink became a massive hit at Buena Vista. You'll find this old cafe on the corner of Beach and Hyde streets, next to another San Francisco staple…
Ghirardelli Chocolate
During a tour of San Francisco, you'll pass by and learn about Ghirardelli Square, home of the original ice cream and chocolate shop. The original chocolate factory sat on this site from 1895 to the 1960s. Sadly, the factory was sold and relocated, so a bunch of San Franciscans purchased the property and turned it into brick covered space for retail and dining. The original shop is on the corner of the square, where you can taste different flavors of San Francisco's beloved chocolate. If you're feeling extra adventurous, go for a gooey hot fudge sundae from the cafe.
Dutch Crunch
You may be wondering, what the heck is a Dutch crunch? Any guesses? It's basically a type of bread that's not sourdough. (San Franciscans really want you to know that.) It's basically just a white bread roll with a crispy exterior. Dutch crunch is also known as "tiger bread" because the crackled and tan colored shell looks like tiger stripes. This makes for the perfect sandwich bread because it's strong enough to hold a lot of ingredients. Deli Board can make a mean Dutch crunch sub. You can also find this type of bread at local San Francisco grocery stores, delis, or bakeries.
Anchor Brewing Beer
An ice-cold beer is a perfect way to end a tour of San Francisco. Why not try a local brew? Anchor Brewing Company has called the Golden Gate City home since 1896. In fact, it claims the title of America's first and oldest craft brewery, with roots dating back to the California gold rush. The company uses an ancient dry-hopping technique, which is a steeping process of adding bagged, dry hops to the ales in order to infuse them with a rich aroma. The traditional copper brew house is located in the Potrero Hill District of San Francisco. You can tour the brewery or rock up to a public tap for an ice-cold beer straight from the source.
View this post on Instagram
Related links:
[maxbutton id="1″ url="https://www.fattiretours.com/san-francisco" text="Join us in San Francisco!" ]