How to Travel in Milan on a Budget
Budget travel is truly one of the delightful facets of travel itself.
The smaller the budget, the bigger your experiences can be. Some of the best, most fascinating sights and activities found during travel adventures don't cost a dime: You can marvel freely at the Eiffel Tower in Paris, gape at Big Ben in London, recline in the grass in Hyde Park, or amble through the French Quarter in New Orleans.
Milan is no different – there are loads of free and affordable things to do in this fashionable Italian city.
Budget Accommodations
Like many metropolitan hubs, Milan has accommodations to fit every budget. There are top-rated hostels, like Koala Hostel, OstellOlinda Hostel, Grand Hostel Coconut, and more. (Tip: Book directly through a hostel or hotel's website, rather than a third-party provider, in order to avoid extra fees.)
Milan also offers a large array of affordable hotels, if you can't bear the thought of sleeping on a bunk bed and eating meals in a communal kitchen (as most hostels necessitate).
If, however, you decide that accommodations are one of the few places you have room for a bit of a splurge, check out some of our favorites from our Best of Milan post, which include swanky boutique hotels like 3 Rooms, design hotel Nhow, and the uber-posh Four Seasons.
Getting Around
While traveling in a budget-conscious way, that often extends to transportation. For this reason, it may be worth paying a little extra money to stay in a more central location, so that you can walk most places, avoiding pricey taxi fees and some public transportation expenses.
Note, though: Milan has a great public transportation system! And using it (instead of taxis or Ubers) will assuredly save you money. There are lots of options, too – bus, tram, and metro. Navigate them like a pro, and you'll get around the city with ease. Check out the public transit system in Milan before you go, so you can familiarize yourself with it and save not only money but also the most precious resource of all – time!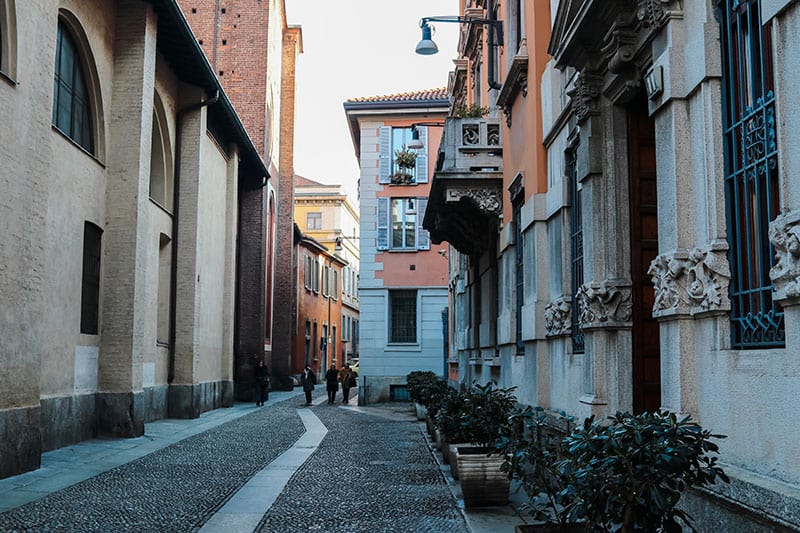 Eating in Milan
Eating in Italy on a budget is not only do-able, but it's delightful and delicious, too. (Read our 10 Tips for budget eating in Italy.) One of our favorite Milan restaurants is Piz, which is close to the famous Duomo (more on that below).
Piz is considered the best pizza in Milan, and they even give you a complimentary glass of Prosecco the moment you enter! First-class service for economy price: not too shabby. (Other restaurants we love include Torre, Ratanà, and Giacomo Arengario.)
Milan has lots of fantastic restaurants, such as Piz, that are great for when you're operating on a shoestring. (Check out The Guardian's recent list of the 10 best cheap restaurants and cafes in Milan to give you some inspiration.) However, let's not forget one of the most fun parts of European travel, the art of executing an incredible picnic.
Head to a grocery store or corner shop, and pick up some staples, as well as some indulgences, and journey to one of Milan's public parks to enjoy your feast!
(Heading to London? Read this popular post: "Where to Have a Proper Picnic in London.")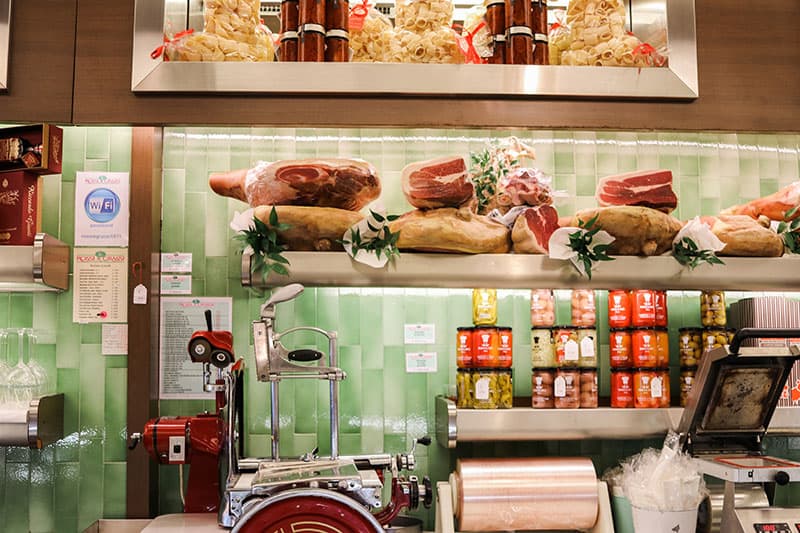 Cheap things to Do
If you want to see the city without dropping a dime, check out all the free things Milan has to offer, like the Milan Duomo, the Gallerie Di Piazza Scala, Parco Sempione, Cimitero Monumentale, Basilica Di S. Ambrogio, Giardini Park, and more.
Among the above, the Duomo is one of the city's greatest draws and it's also Milan's most famous landmark. This 14th-century cathedral is free if you're just in the market to marvel at the church's facade and take some pictures, but tickets are available for purchase to enter. With tickets starting at a mere 8 euros though (with reduced fares of 4 euros), you won't break the bank from visiting the Duomo.
(Tip: If you enter the cathedral as a worshipper, it's free. So check out the timetable of services at the Duomo, to experience this stunning cathedral in all its glory without even buying a ticket.)
Gallerie di Piazza Scala is one of Milan's most-prized modern museums and houses great works of art. The Galleria Vittorio Emanuele II is a breathtaking arcade near the Duomo, and it's Italy's oldest active shopping mall. Walk through it after checking out the cathedral for more gorgeous views. It's named after Victor Emmanuel II, the first king of the Kingdom of Italy.
Also near the Duomo is Castello Sforzesco, a Milan castle that housed its rulers in the 1400s and 1500s. Stroll through the castle courtyards for free, and have your camera at the ready!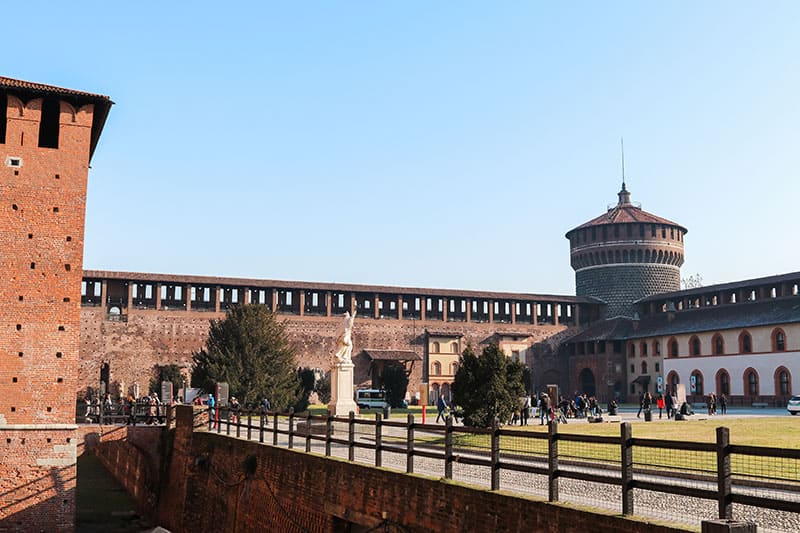 Take a Tour
One of the best ways to enjoy Milan is to take a tour around the city. Fat Tire Tours offers an array of exciting tours to try on your next visit there, like the top-rated Milan Food Tour, Milan Wine Tasting, and a variety of Milan Segway Tours.
Of course, given that it's Milan, you may want to poke your head into a museum or two, or a monastery, like Santa Maria delle Grazie where you can see Da Vinci's world-famous painting, "The Last Supper." (Join our Milan in a Day Tour to skip the line and see "The Last Supper" up close and personal.)
No matter how much or how little you spend on your trip to Milan, we know you will have a fantastic time in this fun and fashionable city.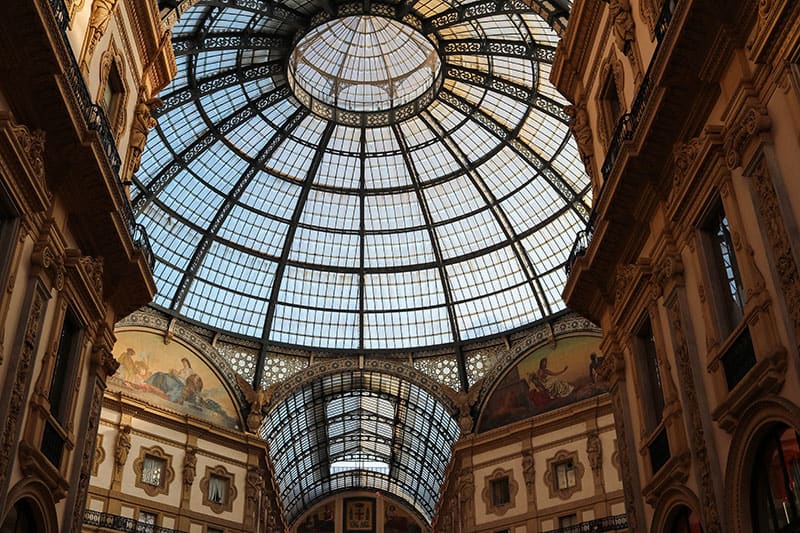 Related links:
[maxbutton id="1″ url="https://www.fattiretours.com/milan" text="Join Fat Tire Tours in Milan!" ]