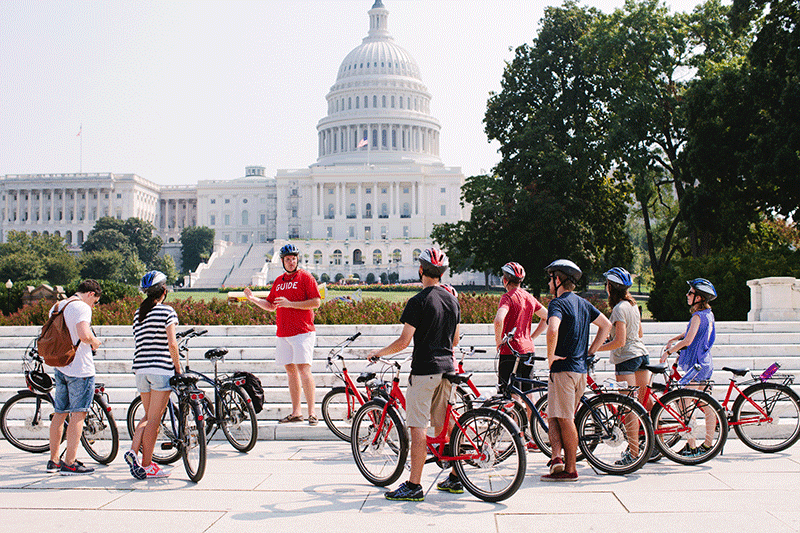 Fat Tire Tours' Best of Washington, D.C.
By Ryan Donovan
In our "Best of" city series, the Fat Tire Tours Ambassadors will lead you around their beloved cities via some insider tips and noteworthy "best" spots!
Quick Links to D.C's Best… Hotels | Restaurants | Bars | Coffee | Tours | Attractions
---
Hotels
If you're a history buff, the iconic Willard Hotel is a must-stay. As a guest, you'll be in the company of such esteemed past guests as Presidents Abraham Lincoln and Franklin Pierce, as well as Dr. Martin Luther King, Jr., who finished his "I Have A Dream" speech in the Willard's lobby.
Built out of an old church in D.C.'s Adams Morgan neighborhood, the Line Hotel made a splash on the D.C. scene last year with its unique mid-century modern decor and sweeping D.C. views. The hotel restaurant, A Rake's Progress, serves mouth-watering southern-inspired cuisine in what was once the church's choir and organ balconies.
View this post on Instagram
Perhaps D.C.'s most infamous hotel, The Watergate was the site of the political break-in that ultimately caused President Richard Nixon's political downfall. Today, you can stay in one of its luxurious rooms and sip cocktails at the rooftop bar, which offers jaw-dropping views of the Potomac River and the National Mall.
This charming, upscale boutique hotel sits adjacent to Georgetown's historic C&O Canal, making it the perfect spot to stay if you're looking to take in the charm of D.C.'s most famous neighborhood. We recommend venturing up to the rooftop bar, The Observatory, for flavorful cocktails and more beautiful views of the Georgetown rooftops.
---
Restaurants
If you're a fan of big, refined Italian flavors, Masseria is your dining dream. Enjoy a multitude of creatively flavored pasta dishes amid the restaurants' sleek decor, which is all the more stunning set to the backdrop of D.C.'s grittier Northeast warehouse district.
Set throughout a brick-lined carriage house and alleyway, Iron Gate's historic charm is what immediately jumps out at you. But then you open the menu to find a flavorful array of Italian and Greek-focused dishes made with local ingredients, and realize you're in for more than just a little dose of history.
Sample various street food staples from around the world in one of D.C.'s most innovative restaurants, set in a simple townhouse in the city's buzzing 14th Street neighborhood.
Something about the wood-paneled walls and vintage decor of Martin's Tavern gives you a taste of the D.C. of yesteryear. Enjoy a delicious pork chop or burger while you sit in the booth where JFK proposed to a young Jacqueline Lee Bouvier.
View this post on Instagram
---
Bars
This full-scale industrial brewery is a favorite among residents of D.C.'s Navy Yard neighborhood. Sip on a wide array of crisp, locally-made craft beer in a warehouse that was once a Navy ship-building factory.
What's more fun than having a beer at a bar with friends? Having a beer and playing board games at a bar with friends. Take your pick of Board Room's vast collection of games and delicious beers for a not-so-typical game night!
If you want to feel like an old school D.C. lobbyist cutting a backroom deal, this is the spot for you. Descend into the basement of the famous Hay Adams Hotel to find a red leather-clad cocktail lounge that looks like time stopped in the 1920s. The only modern twist is the current affairs political cartoons drawn on the bar's iconic drink coasters.
Coffee Shops
Swings has roasted coffee in the D.C. area for over 100 years, and its sleek yet vintage-inspired downtown shops are a favorite among the D.C. work crowd.
Step off the beaten path for a fresh cup of coffee. Literally. La Colombe's hippest location is located down an inconspicuous alleyway called Blagden Alley. A few steps in, and you'll be able to enjoy their signature draft latte.
---
Top Fat Tire Tours in D.C.
If you think sites like the Lincoln and Jefferson Memorials look beautiful during the day, just way until you see the way they light up at night! A must do for all D.C. visitors, especially in the warmer months!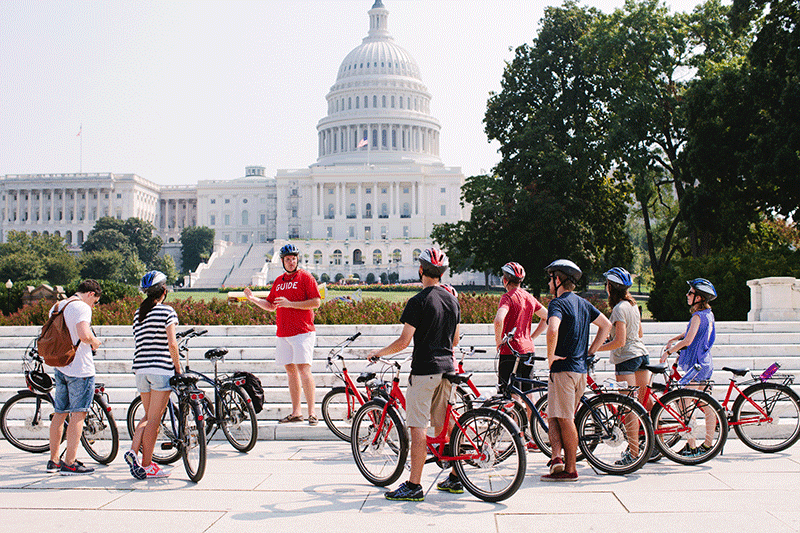 This is your one-tour-wonder for all of D.C.'s most iconic sites, from the front yard of the White House to the west steps of the Capitol, and all of the historic museums and memorials in between!
Dart through D.C. streets and zip down the National Mall on our signature Segway tour as you learn about the capital city's most famous landmarks.
[maxbutton id="1″ url="https://www.fattiretours.com/washington-dc" text="Join us in D.C!" ]
---
Top D.C. Attractions
Set alongside the Tidal Basin, the Jefferson Memorial is the perfect place to take in the view of paddle boaters across the water or the Cherry Blossoms that surround the memorial in springtime.
View this post on Instagram
The U.S. Capitol is the center of the US legislative branch, and perhaps the most visitor-friendly government building, with dozens of exhibits on D.C. history and free public tours of the hallowed halls and iconic dome.
The city's arts and culture scene revolves around the Kennedy Center, which is a living memorial to the late President JFK, who was a vocal proponent of the arts. Take in a Broadway show or orchestra concert, then discuss the performance over a glass of wine on the rooftop as you enjoy 360-degree views of the nation's capital.
---
Related Links: