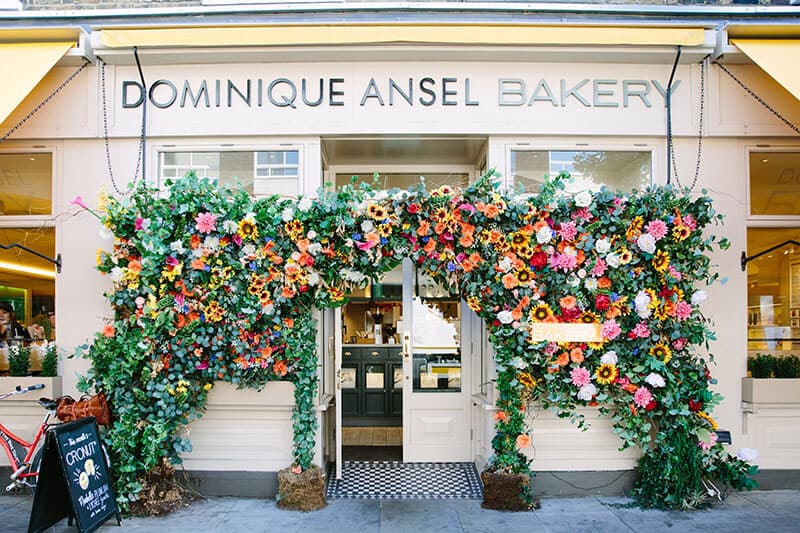 Fat Tire Tours' Best of London
In our "Best of" city series, the Fat Tire Tours Brand Ambassadors will lead you around their beloved cities via some insider tips and noteworthy "best" spots!
Quick Links to London's Best… Hotels | Restaurants | Bars | Coffee | Tours | Attractions
---
Hotels
The Landmark London is a gem nestled in the heart of Marylebone in West London. The palm tree-dotted lobby screams opulence and gives off summer vibes all year long.
Ace Hotel (Shoreditch – East London)
The London location of this international hotel chain is effortlessly cool. It's an artsy boutique hotel with a lot of edge, thanks to its East London roots. The lobby is full of coworkers, locals, and travelers alike. Come here on a Saturday night for creative cocktails and house music that'll keep you dancing all night.
Located on the River Thames, Good Hotel mixes premium hospitality with social good. Some of their initiatives include donating to NGO's, sourcing local ingredients and products, and providing employment opportunities for long-term unemployed locals.
Hotel Indigo (Leicester Square, Central London)
Located in the heart of central London's West End, Hotel Indigo is a 1920's chic hotel with breathtaking views of the famous London skyline.
---
Restaurants 
Located on the 40th floor of the Heron Tower, Duck & Waffle is a bonafide crowd-pleaser, 24/7. With panoramic city views, innovative cocktails, and unique plates, tables here fill up FAST. Book online at least 2-3 weeks ahead of your planned visit.
This Bombay-inspired restaurant is worth the wait. Dishoom has built a cult following of Londoners who queue up for their authentic Indian cuisine.
Sketch boasts icon status in the Big Smoke. This is an oft-visited locale for sipping afternoon tea in London. Every room has its own personality.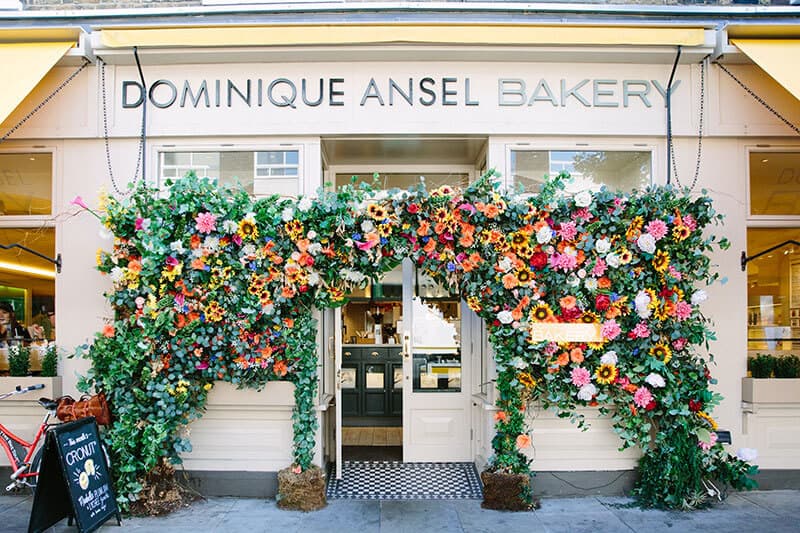 The ultimate Southern BBQ brunch in Londontown.
Visiting London while on a budget? Well, this affordable steakhouse will get you a savory meal, without breaking the bank! Londoners adore this spot.
---
Bars
Neon lights and millennial pink couches – that's Tonight Josephine, for you. This is a cocktail bar with a lot of sass.
An Instagram-able bar filled with plants and a spiral staircase. The cocktails here are exotic, and they're inspired by the travels of Mr.Fogg.
This quirky new cocktail bar is becoming a favorite amongst Londoners. It's whimsical, yet classy, and it doesn't hurt that famous British actor, Idris Elba, also owns it.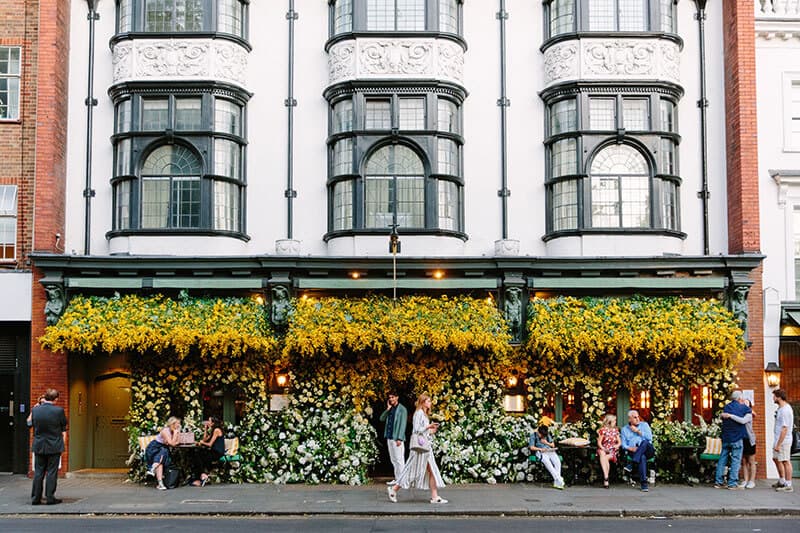 ---
Coffeeshops 
With multiple locations all over London, Grind is a coffee-shop-meets-bar-meets-co-working-space. Grind has a cult following, and boasts some seriously good coffee.
Here's a beautiful, light-filled space where you can enjoy your steamy morning latte. It's especially popular among East Londoners.
This famous London coffee roasters hotspot is located in the city's foodie haven, aka Borough Market.
---
Top 3 Fat Tire Tours
You'll zip through the gorgeous Kensington Gardens and expansive Hyde Park, check out the Houses of Parliament and Trafalgar Square, marvel at Buckingham Palace, and so much more, while exploring England's capital city. (Capital fun, old chum!)
Journeying through London by night is always better with company! On this tour, you'll experience the magic of London coming alive at night, with Big Ben all aglow, and some traditional English ales in your belly.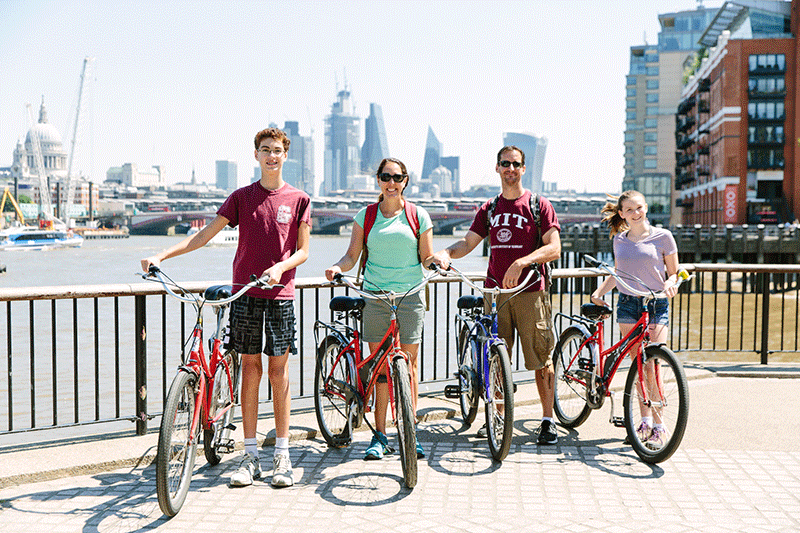 And, on the topic of beer – you won't want to miss out on our famous West End Beer Tasting Pub Tour. London is known for its robust pub life, so immerse yourself in one of the city's most time-honored traditions: having a pint at the pub with your mates.
---
Top Attractions
Buckingham Palace is practically synonymous with London itself. Everyone should come here and watch the Changing of the Guard ceremony. Have your camera at the ready!
This garden is the ideal place to come for great views of London. Best part? It's free!
Hyde Park is beautiful all year-round. It's a perfect place for a proper picnic in the summer, and for Winter Wonderland in the winter.
Trafalgar Square is at the heart of London. It's always bustling, and it is a source of excellent people-watching.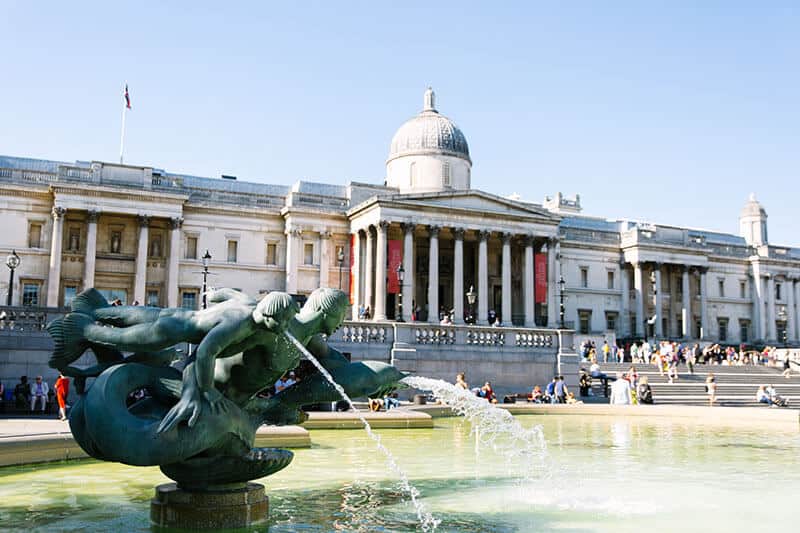 The Tate Modern museum boasts gorgeous exhibitions that are inspiring, creative, and thought-provoking. The museum also has a stunning rooftop terrace.
---
Related links:
[maxbutton id="1″ url="https://www.fattiretours.com/london/tours-activities" text="Join us in London!" ]