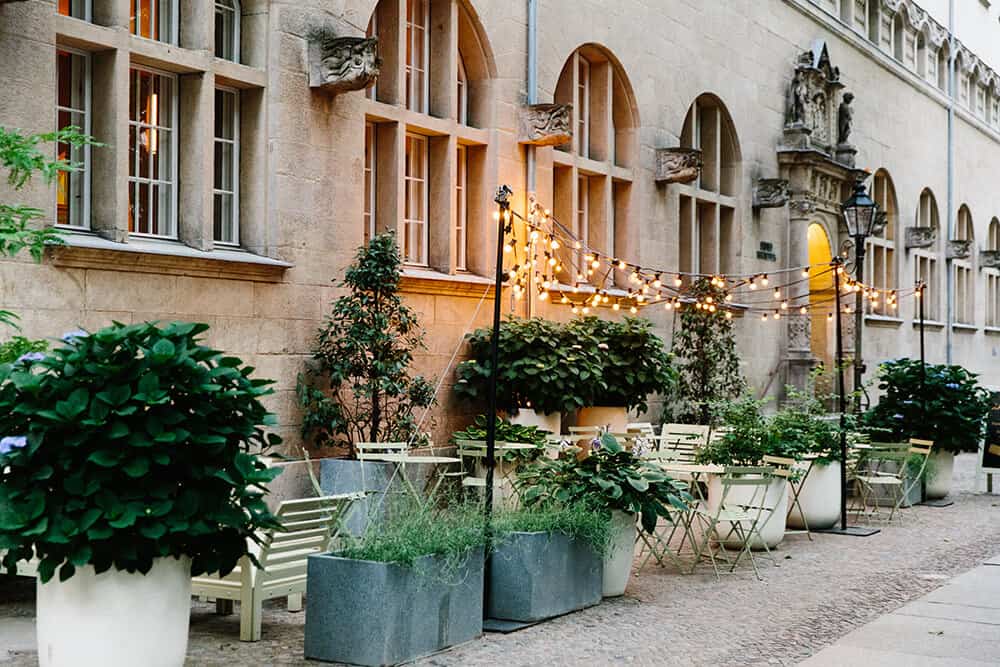 Fat Tire Tours' Best of Berlin
By Flora Amalie
In our "Best of" city series, the Fat Tire Tours Ambassadors will lead you around their beloved cities via some insider tips and noteworthy "best" spots!
Quick Links to Berlin's Best… Hotels | Restaurants | Bars | Coffee | Tours | Attractions
---
Hotels
Michelberger Hotel
Quirky and hip, the Michelberger is a local Berlin favorite. The rooms are not the largest, but they're all uniquely designed, and the location by Oberbaumbrücke and East Side Gallery can't be beaten.
25hours Hotel Bikini Berlin
25hours Hotel Bikini Berlin is the number one choice for the design and eco-conscious travelers. Located in the West, it's close to shopping, and Monkey Bar overlooking the zoo is in the same building.
Hotel Oderberger
Located in Berlin's Prenzlauer Berg district, this hotel is a refurbished former public bathhouse designed in 1898, and the hotel's historical pool is one of its main attractions, in addition to the great location.
The Circus
Circus offers both hotel and hostel, and if you combine that with one of the most central locations in the city, you have an obvious choice of accommodation. Commonground on the ground floor has amazing drinks.
---
Restaurants
Standard Serious Pizza
Standard serves the perfect Neapolitan style pizza, and although many new pizza places have popped up on the scene since Standard opened its doors in 2014, this is still the place to go for that perfect dough.
Cookies Cream
Fine dining, but make it vegetarian! Since 2007, Cookies Cream has focused on regional and seasonal produce and an exclusive plant-based dining experience.
Azzam
Another local favorite, Azzam, located in Berlin's Neukölln district, has authentic Lebanese food, huge portions, and more than reasonable prices!
Barra
Barra opened in late 2018, so it's new on the Berlin food scene. Share small plates and carefully selected wine in a cozy and friendly atmosphere.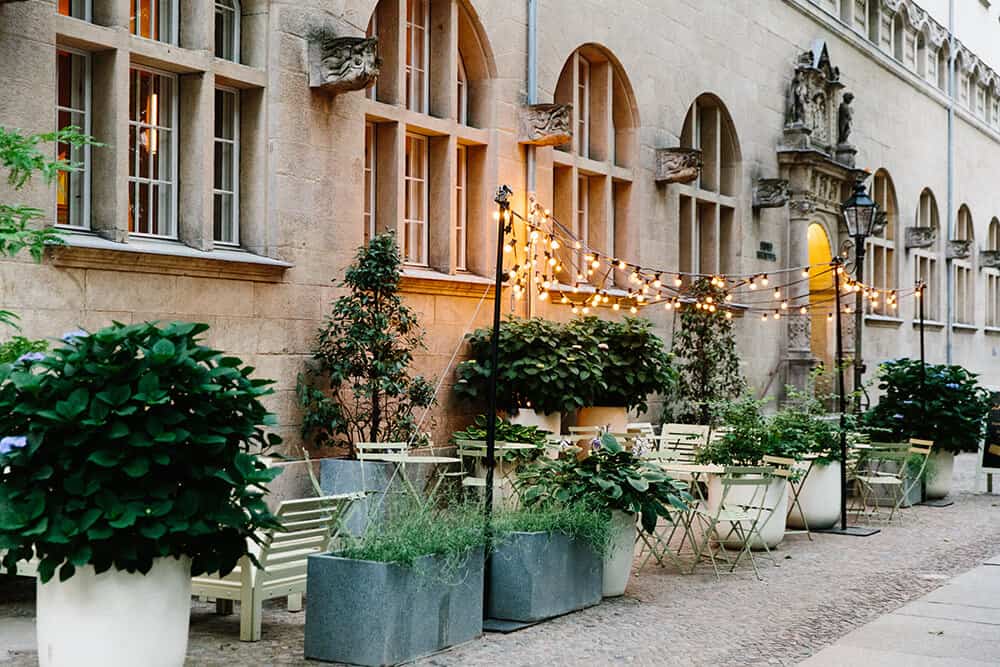 ---
Bars
Mr. Susan
Mr. Susan opened its doors in Berlin, Mitte in 2018 and with its stunning decor, pleasantly smoke-free atmosphere, and innovative cocktail menu, it's already a "must-visit" on any cocktail enthusiast's list!
Jaja
Berlin is crazy about natural wines and there is no better place to taste them for yourself than Jaja in Neukölln. There's an impressive menu of local and organic dishes to accompany your wine too.
Klunkerkranich
Hidden on the roof of the Neukölln Arcaden shopping mall, Klunkerkranich is the number one spot to get a drink in spring and summer. Enjoy drinks, food and, of course, the sun setting over the city.
---
Coffee Shops
Home
For the longest time, it was impossible to find specialty coffee in outer Neukölln, but when Home opened that changed. They serve fantastic coffee from local roasters, and delicious seasonal breakfast and lunch.
The Barn
If you're having a great cup of coffee anywhere in Berlin, chances are very good that the beans came from The Barn. They've been on the forefront of the specialty coffee movement since opening in 2010.
Bonanza Coffee
Another third wave coffee pioneer in Berlin is Bonanza Coffee. You'll find their original shop in Prenzlauer Berg, but if that's too far, or too busy, they now have a big, spacious roastery in Kreuzberg as well.
---
Fat Tire Tours
Explore Berlin on bike while learning about the wall that used to divide the city. On our Berlin Wall Bike Tour, we visit the Berlin Wall Memorial and the land once known as "no-man's land."
If you don't have a lot of time in the city, but you still want to see and learn as much as possible, then this compact three-hour tour is the perfect choice. Visit Brandenburg Gate and many more of Berlin's "must-see" spots.
This is the tour for the visitor who has all day to explore, and wants to learn all there is to know about our fascinating city! Even if you think you know Berlin, our guides can still teach you a thing or two.
[maxbutton id="1″ url="https://www.fattiretours.com/berlin/tours-activities" text="Join one of our top-rated Berlin tours!" ]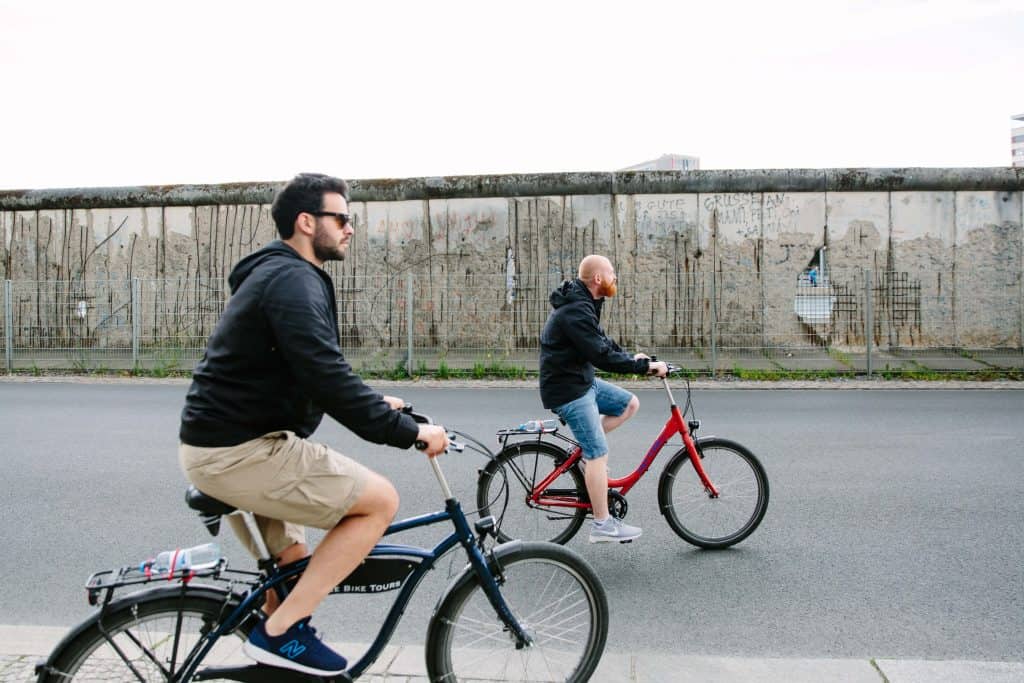 ---
Attractions
East Side Gallery
The East Side Gallery is the longest existing stretch of the former Berlin Wall. The wall is now the largest open-air gallery in the world and you can spend hours exploring the many murals for free.
Soviet War Memorial
Located in one of Berlin's biggest and best parks, the Soviet Memorial was built to commemorate the 80,000 Soviet soldiers that died during World War II in the Battle of Berlin.
Thai Park
Every year in April, Berlin's western Preußenpark turns into the more well-known Thai Park, a longtime favorite of locals. Bring a blanket and enjoy the many culinary delights from local vendors.
Tempelhofer Feld
Tempelhofer Feld, a former airport that closed in 2008, is one of the world's largest inner city parks. It's the perfect place for skating, flying kites, biking, having a picnic or taking the dog for a run. And be sure to enjoy the sunset from one of the makeshift benches in the cozy community garden.
Holocaust Memorial
Designed by Peter Eisenman, this memorial was built to honor and remember the six million Jewish victims of the Holocaust. The memorial is open 24 hours a day and is free of charge.