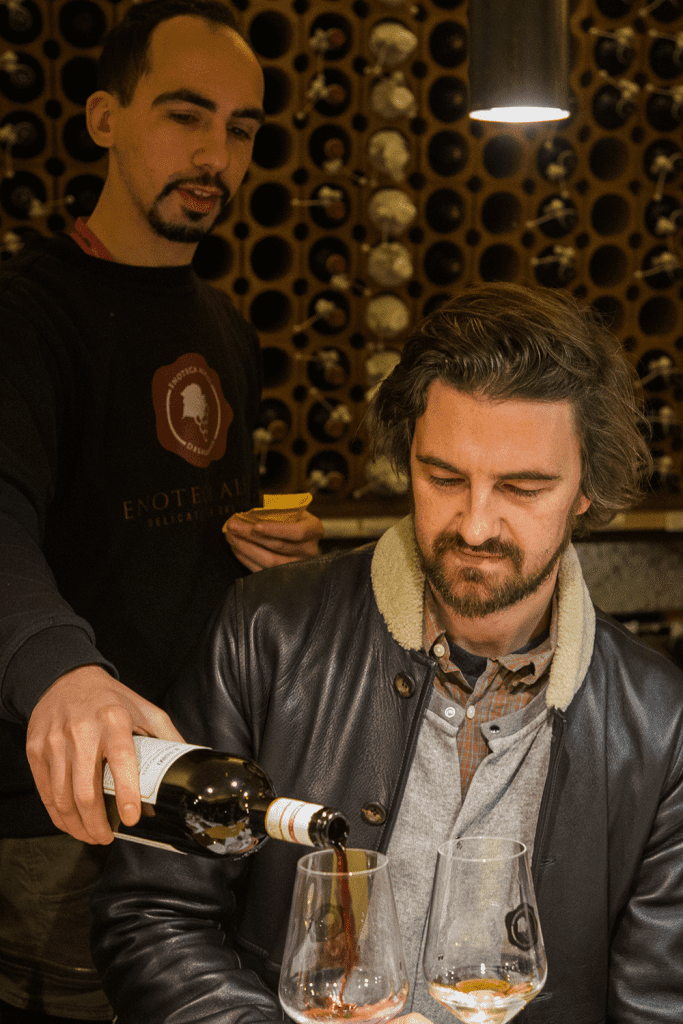 What is the Meaning of "Aperitivo?"
This is a must do when in Italy, and you can bring your kids too, because nowadays you can have it also non-alcoholic!
Aperitivo was born in the late 18th century in Torino with Antonio Benedetto Carpano who created the first aperitivo drink: vermut.
The classic aperitivo drink, vermut, is a herbed-flavored white wine that Carpano started serving as a pre-meal drink in the central square of Torino, Piazza Castello. Soon afterwards, the Martini & Rossi company started a mass production of this white and spiced wine, that we all know now as Martini (but is no longer classified as vermut, because it's not strong enough).
Aperitivo started to spread all over Italy in the 19th century, and has reached present day with changes and evolutions. The traditional drinks are: vermut, Negroni, Americano, Spritz, and Prosecco. On the non-alcoholic side, you have Sanbittèr or Cordino, strong and bitter in taste, but soft for those who want to enjoy the happy hour without the dizziness!
ALCOHOLIC DRINKS
The aperitivo drink is meant to "prepare" your stomach for the meal, but don't overdo it; you want to have some wine with your meal too!
Did you know that Negroni was born in Florence? It happened in the 1920s, thanks to Count Camillo Negroni, who used to drink Americano in his favorite bar. Until, one day – bored with the same drink – he asked the bartender to add a sprinkle of gin – instead of the seltzer – to give it a twist. As we now know, it was then renamed after the count itself.
Americano is another usual aperitivo drink, which was actually born in Italy, despite the name. It's composed of Italian beverages: Campari Bitter, Vermut, and seltzer. Apparently it's named after a popular Italian boxer, Primo Carnera, who used to have matches mostly in the U.S., and was called "The American Boy".
Spritz is a very famous drink. It originated in Veneto, and quickly spread through northeast Italy. It descended from a custom of Austrian soldiers (those who couldn't handle the strength of the Venetian wines); they added soda to their wines.
This practice turned into a popular drink, especially in the 1970s when Aperol Soda started to promote the "Spritz Macchiato" (stained or dirtied Spritz), which is the original base of Prosecco and soda, plus a hint of Aperol, which adds a touch of red to the otherwise pale Spritz, and a little taste of orange. Now it is called simply "spritz."
[maxbutton id="1″ url="https://www.fattiretours.com/florence/tours/florence-wine-tasting" text="Book a Florence Wine Tasting" ]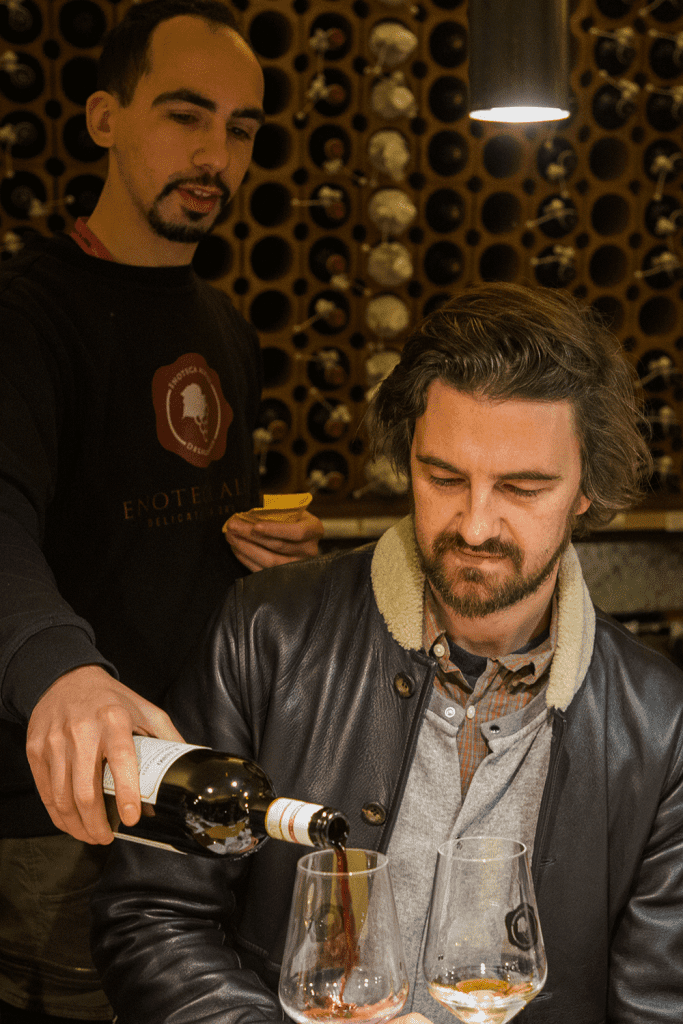 NON-ALCOHOLIC APERITIVO
Sanbittèr is the first non-alcoholic Italian "cocktail" mass-produced. It became famous almost immediately; it's a sparkling infusion of fruits and herbs, with a bitter taste that recalls an alcoholic drink. Another famous non-alcoholic drink is Crodino, which is an infusion of spices. The recipe is kept secret, though, it's known that is has coriander, cloves, cardamom, and nutmeg.
APERITIVO FOOD
Don't think that you'll drink on an empty stomach! Aperitivo is always accompanied by some delis, or, meat.
Maybe it wasn't this way since the beginning: just a few years ago, during aperitivo, you'd drink and nibble on olives, chips, or crackers. But this is no more. Aperitivo has evolved itself into a more complex snack with crostini, cold cuts (ham, mostly), cheese, bruschetta, and so on.
The latest – and ultimate – form of aperitivo is AperiCena: you drink aperitivo while eating on a "buffet dinner," which varies from bar to bar. But, basically, you get all sorts of pasta dishes, meat dishes, crudité with dips, along with the classic aperitivo food mentioned above.
Apericena is more expensive than aperitivo – around 10€ per drink – but you eat almost as much as you would at a meal, and that's why it became so popular among young people. In past years, it spread all over Italy.
WHEN…?
Aperitivo happens later than happy hour – without excluding happy hour itself.
Now, the apericena or aperitivo time starts from 7pm, more or less, but you can still get a drink starting from 6pm. So, you can start by "opening" your stomach in preparation for the aperitivo. Between 9pm and 10pm, apericena ends.
If you're on holiday in Italy and want to try it, know that you can't start eating before 7pm. Also, check also the prices, because if you don't want to eat, you must specify it to the server when ordering your drinks. In some places, during aperitivo time, it's mandatory to have also food, therefore, pay full price.
If it's spring or summer, you have to sit outside. Most bars don't have tables outside and you might end up sitting on a curb, bench or wall, with a plate in one hand and the drink in the other, wondering how you're going to eat or drink without resting your plate or glass on the ground. After a couple drinks it gets easier!
The worst part of apericena, are the Smurf-sized plates: you can't get much to eat at one time, and you have to keep refilling your plate. But the trays of food are re-stocked continuously, so you won't miss anything.
Now you know all that you need to know to have a proper Italian aperitivo, with class and style. An aperitivo is a must do when visiting Italy – no matter how short your visit! – so make sure to plan it in your visit! And if you need more insight on Italian food, a guided food tour is always a good start.
[maxbutton id="1″ url="https://www.fattiretours.com/florence/tours/florence-food-tour" text="Book a Florence Food Tour" ]
So, enjoy your Italian holidays on a Fat Tire Tour in Milan, Florence, or Rome, and relish in being Italian for one night having Aperitivo or Apericena.