An American Traveling to Paris during Covid
By Sadra Sumner
What's it like for an American traveling to Paris during Covid? It's not easy.
I have been fortunate since March 2020.
From the moment Covid shut down my life as I knew it, little surprises and unfathomable situations have made it all palatable
. With no tourists and closed shops in Paris, the city took on a livelihood that was euphoric and ephemeral.
Bistros spilled out into parking spaces along the street, stores set up outdoor racks for socially-distanced shopping, and Parisians once again ruled their city
. There wasn't a tourist to
be found
in the early days last summer.
Paris seemed a mythical secret where the locals enjoyed the relative freedom that came with warm weather and a decent bill of health
.
But when cases spiked, everything changed. And I hopped on a plane back to the states.
I grew up in a rural neighborhood over an hour away from any significant town. My parents, brother, sister-in-law, and two nephews all live in the same house where I grew up. Adding a seventh body to the mix conjured questions of hot water usage and milk preferences. It also allowed me the opportunity to live with my family again – something I hadn't done in 18 years.
My decision to return to Paris came shortly after the French President's announcement of a tiered opening, where Americans traveling to Paris would be allowed
. May 19th marked the date when terraces would once again be open, and the curfew would
be pushed
to 9pm.
From then until June 9th when borders were set to reopen to foreigners, I knew the city would be buzzing with pent up energy
. And I wanted in on the action.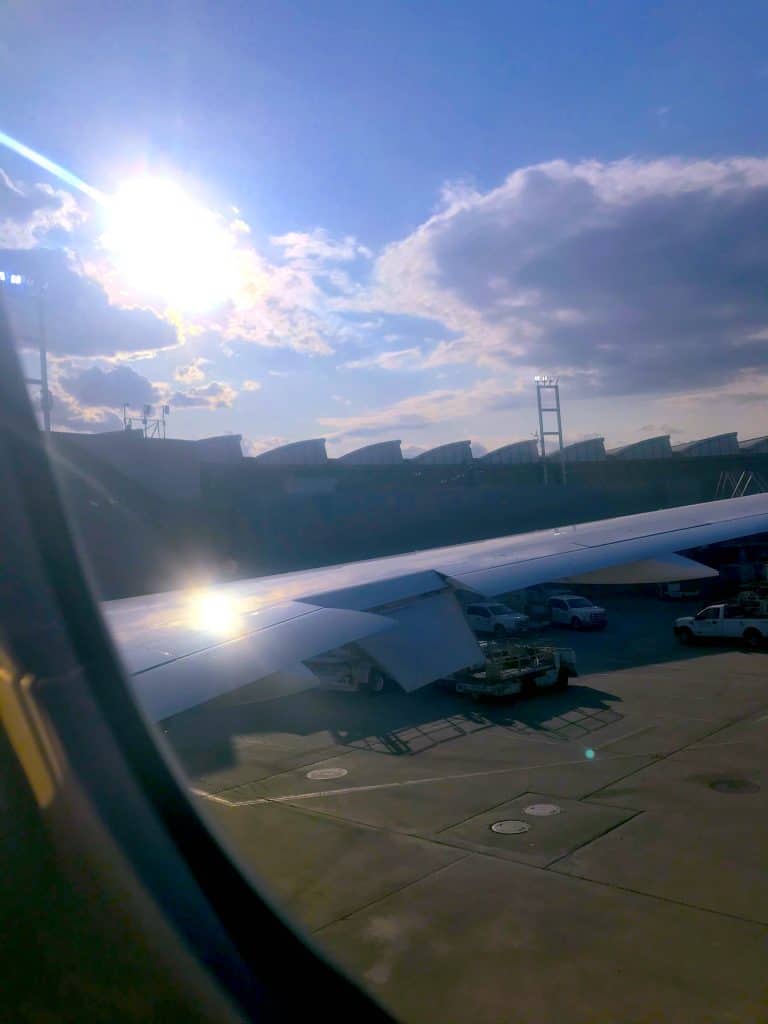 Necessary Paperwork at the Airport for Americans traveling to Paris 
Booking my ticket was easy and
possibly
the least money I've ever spent. A one-way ticket from Newark-Paris was about $200. My luggage – hefty from 5 months of online shopping in America – was
nearly
as much as my ticket.
Flight aggregators like google flights and kayak have been hurting for business for 1.5 years, so now is the best time for affordable tickets
.
I've flown out of the Newark airport many times, so I
was prepared
to arrive 2.5-3 hours early and go through the routine.
Checking in online was not surprising in that I couldn't do it; Covid protocol for France required that I
be verified
in the airport
.
The only issue there was that the poor, understaffed airport personnel
were tasked
with verifying every traveler to myriad destinations
.
I lined up in a normal-looking luggage drop-off line only to realize 10 minutes in that not one person had advanced
. The self-service kiosks were useless.
Each passenger had
multiple
qualifications to show – PCR tests, end-destination paperwork, visas, vaccines, etc. The airline staff (I flew United) were doing their best to keep the angry mob at bay, but I'm sure you can imagine the tension
.
I sleuthed the most competent staffer and worked my way towards her.
Just
ahead of me, a couple on their way to Turkey had
nearly
gotten their boarding pass only to
be sidetracked by
a piece of paperwork that they had submitted to the airline in advance (or so they said) but did not have on hand
.
As they
frantically
searched their phones for a copy of it, I shoved my paperwork in front of the staffer and said, 'I'm good to go
.' It felt like I was stealing a coveted VIP pass. But desperate times, am I right?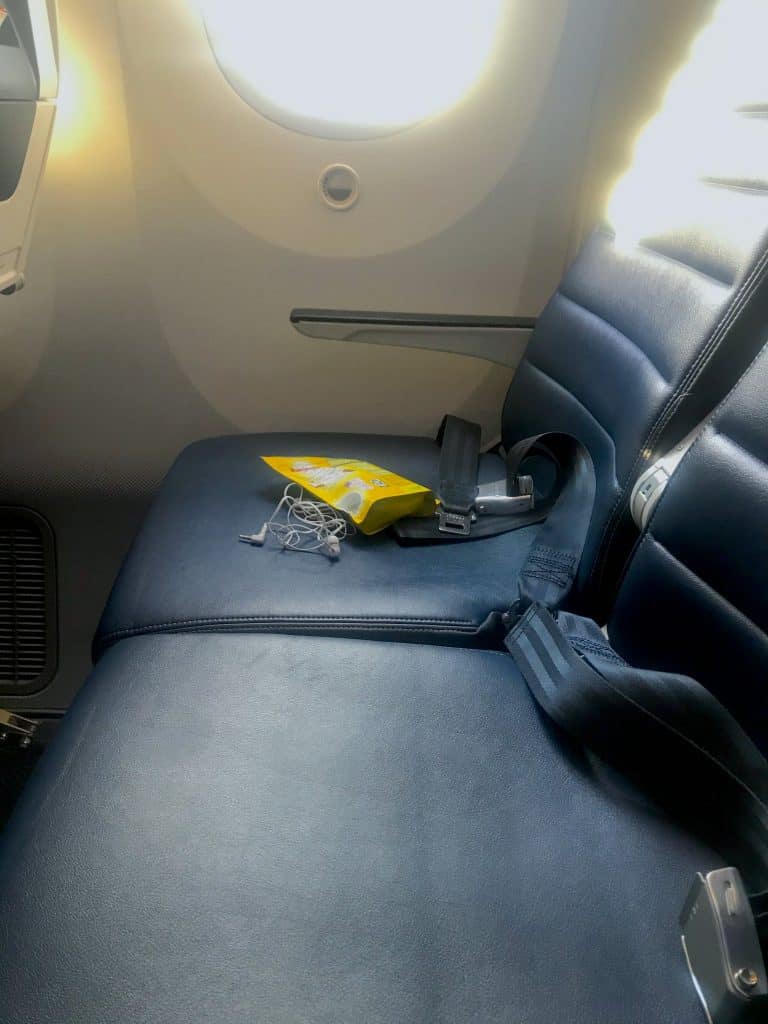 The woman switched her attention to me. 'How are you going to France; it's closed to Americans?' I showed her my working visa.
The next step was the paperwork required by France – a piece of paper confirming that I have not had Covid-like symptoms in the past 72 hours
. She looked at it and looked at me confused, 'Is this it?'
I looked at her, then looked at the 7 destinations on the screen behind her, and then realized that she was responsible for ensuring that each passenger had the necessary paperwork for 7 different places
. And that was
just
in the 20 minutes I had been there.
I assured her that yes, this piece of paper in her hand which was 100% in French was all the French government required for paperwork for Americans traveling to Paris
.
Just
one last step – my PCR test. I showed her the official copy of my results. Sample collected at 6:05pm 3 days prior. Then I looked to the check-in screen, which said that results had to
be taken
no earlier than 6:45pm 3 days prior. The sweat started to form on my brow as I breathed
deeply
and started thinking of white lies.
If only I could go back to my care-free almost-miss-the-flight travel days of my youth rather than current me which is so intent on having everything ready that it's prepared 40 minutes to early
! I started to panic in silence.
Luckily, the couple bound for Turkey blundered again.
A man named Sebastien entered the area pulling the attention of my helper away and causing my screen to go blank
.
Once she returned her attention to me and left Sebastian to deal with the couple, she
just
clicked 'confirm' without any further questions
. Boarding pass in hand, I was bound for the gate!
The Flight from Newark to Paris
Security only took about 4 minutes. I then settled in at my gate and was boarding within 20 minutes. The flight was
equally
carefree; I counted 10 other heads in my section of the plane.
Fully
spread out among my three seats I was! And there was no fighting for overhead bin space;
just
the kind of relaxed flight I love. The flight attendant even came by to ask me if I wanted extra wine, which of course I couldn't refuse.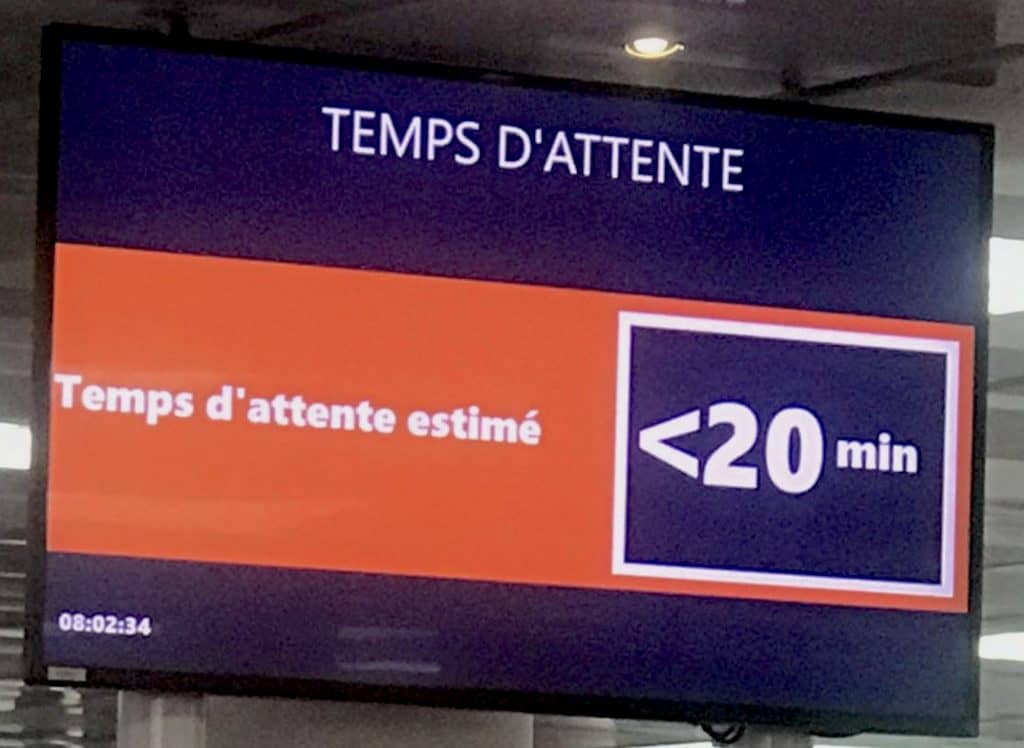 Customs in Paris
We landed in Paris, Charles de Gaulle at 7:30am. I looked at my phone as I was walking through the exit door – 9:00am. Never have I ever waited in customs/security for so long.
The international arrival section, much like Newark, was buzzing with travelers from all over and staff that
were expected
to verify their entry documents
.
I'm a huge proponent of the
passe sanitaire
or EU health passport as
I believe
it will provide clear requirements for entry
. Between now and then, it's pure mayhem.
As I waited in line, I picked up and filled out three
additional
forms; none of which were then required at customs.
I felt cheapened by my hunched-over scribbling as I drug my bag along, picking up all the airport germs, only to have no follow-up
. Sort of like when you turn 21 in America and for the first time, you hope to
be carded
. 'Take my forms!' I was screaming
internally
.
Along the wall
was written
'Paris vous aime' which means 'Paris loves you'. For Americans traveling to Paris for the fist time, this is charming. But every time the switch back turned me to that direction it felt like a sarcastic joke. The screens above also showed an estimated wait time of <20 min. I wondered if that was the highest they ever displayed? Did they receive negative feedback for displaying <50 minutes?
Spoiler alert – no one asked for my PCR test in France. I should mention that I'm
fully
vaccinated and have been for more than 2 weeks.
There were signs encouraging those arriving to self-quarantine for 10 days, but no real impetus to do so
.
I suppose the French authorities could knock on my door to see if I'm respecting said quarantine, but the likelihood of that is lower than stepping in dog doo-doo on a Parisian sidewalk
. My vaccination card was useless.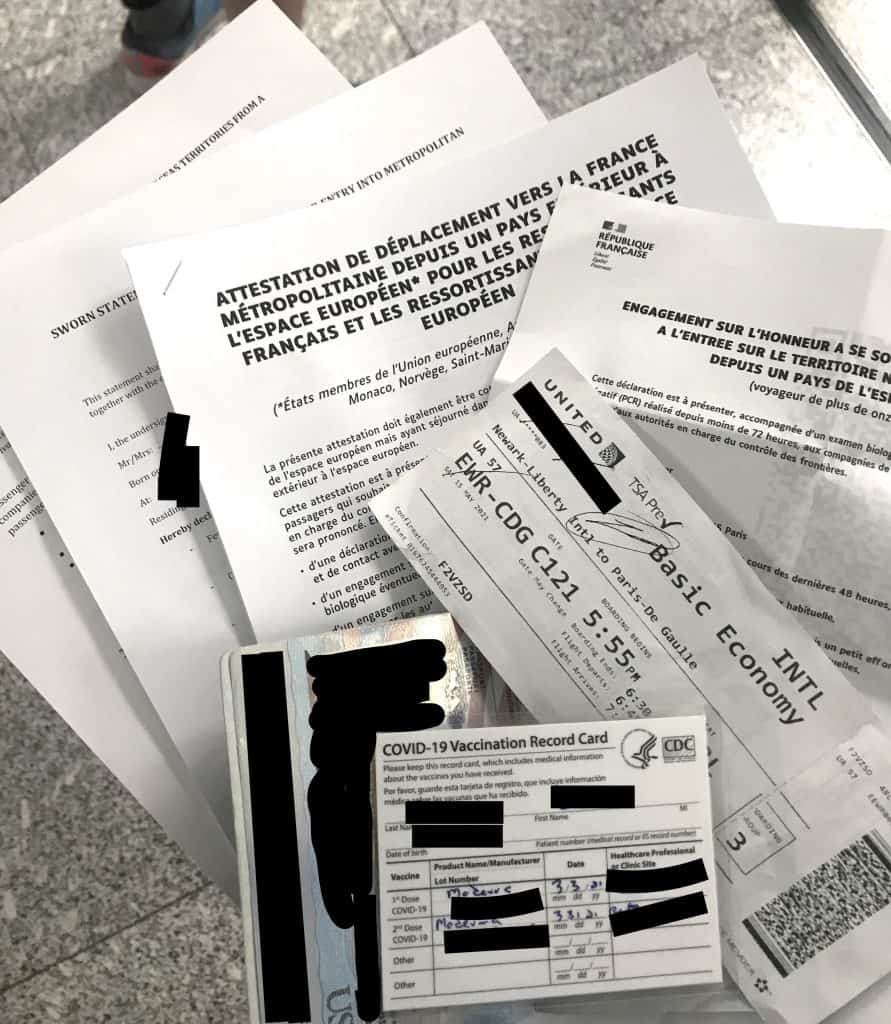 Again, I do believe that this will change once the EU health pass
is decided
and
fully
functional; Americans traveling to Paris will become easier over time.
It was as if I were traveling to the 7 1/2 floor of John Malkovich's mind; possible, but not accessible or comprehensible to your average joe
.
When I arrived at the luggage carrousel, I saw my bags,
neatly
stacked next to each other, keeping 3 other bags company
. I'm not sure how everyone (all 20 flyers) from my flight beat me there, but I also wasn't in the mood to get angry over that.
As per French tradition, the last kahuna's of 'do you have something to declare' were enjoying their coffee break and didn't even flinch as I walked through the exit gate
.
Improvements with the EU Health Pass
All in all, it wasn't my
worst
trans-Atlantic flight.
Compared to screaming babies, hangovers, seat-pushers, and arm-rest hoggers, the process as a whole was quite pleasant
.
The experience for non-visa holders will need to improve by June 9th; the stated date that Americans traveling to Paris will
be permitted
.
And like all things French, I
firmly
believe that they'll get around to making the experience hospital for Americans and international travelers from all Covid-safe destinations this summer
.
Just
after one more espresso.