5 Best Places to Find Street Food in Berlin
One of the best things about visiting a new city is working your way through it by mouth.
Berlin is a city that's easy to experience on a budget, and one of those reasons is that amazing street food events await you (which will save money when it comes to eating). Forgo expensive restaurants, and take to the streets – by bike or by foot – with the Berliners, and see the smorgasbord that is offered in the German capital city. Berlin's food scene is nothing short of spectacular.
Here are 5 of the best places to find delicious Berlin street food. Make sure you're wearing your stretchy pants!
Located at Eisenbahnstraße 42/43, 10997 Berlin, "Street Food Thursday" is open 5pm – 10pm. As the first international street food hub in Germany, this lively atmosphere boasts a bevy of delicious food from across the globe to wet your whistle. There are dumplings from Thailand, tacos from Mexico, Nigerian Fufu, Brazilian tapioca, Allgäu cheesy spätzle, American BBQ, Korean buns, Peruvian Ceviche, English pies, and oodles more. I'll stop now before your stomach starts grumbling.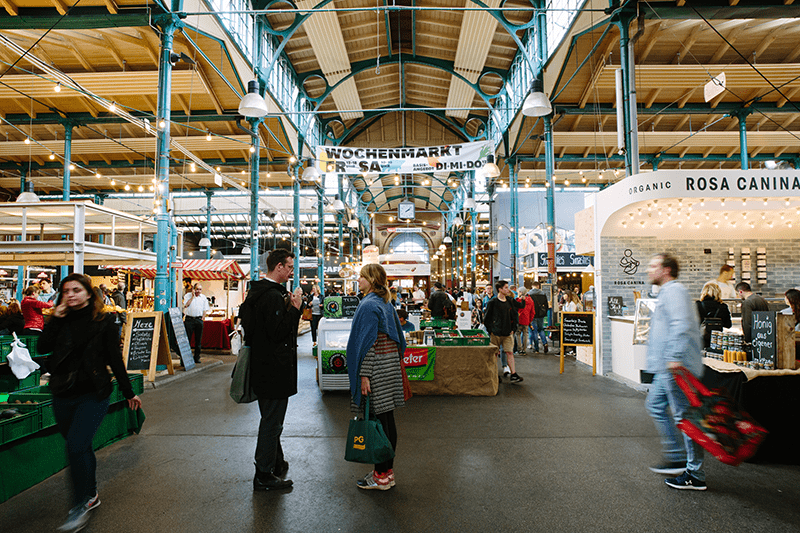 Open Tuesdays and Fridays, and conveniently situated on the idyllic and picturesque Maybachufer Canal, you will find the Turkish Market.
Your senses are in for a treat as you graze between stalls, relishing in the abundance of fresh produce, Middle Eastern street food, pungent and tempting spices, and handmade Turkish goods and wares. There are hundreds of stalls, and with the cultural sights, delicious smells, and lively sounds, you'll feel like you're no longer in Berlin, but somewhere in the Middle East. Inside this melting pot of cultures, you'll find shoppers haggling for goods, too. (Unsure – or just wary – of haggling? Learn how to haggle here, and become an ace at it in the process. You may need this skill for future trips!)
Bite Club is the only spot on the list which has been dubbed a "Berlin Street Food Party." So, get your kicks while you can. This incredible food club travels all over the city of Berlin. Check out the "Find the Club" link on their website (on the upper right-hand corner, under the dropdown, if on a desktop) to view its current location. Bite Club has a party vibe and an equally festive décor. "Berlin is defined by its freewheeling nature and it's this sense of fun that's at the core of Bite Club – a space to enjoy treat foods from local traders and partake of convivial evening drinks," says its website. The Club was founded by a food writer and a design editor; its mix of well-curated food and fun, engaging design and ambiance is a testament to show what a melding of backgrounds can do for the creative spark.
Bite boasts regular cooks, with consistent new members, as they are always looking for the best of the best. Specialist wine, whiskey, and craft beer bars ensure that no one will go thirsty at this party. The central hub of Bite Club is Kreuzberg riverside, which is next to Badeschiff swimming pool (known for its techno music and club vibes).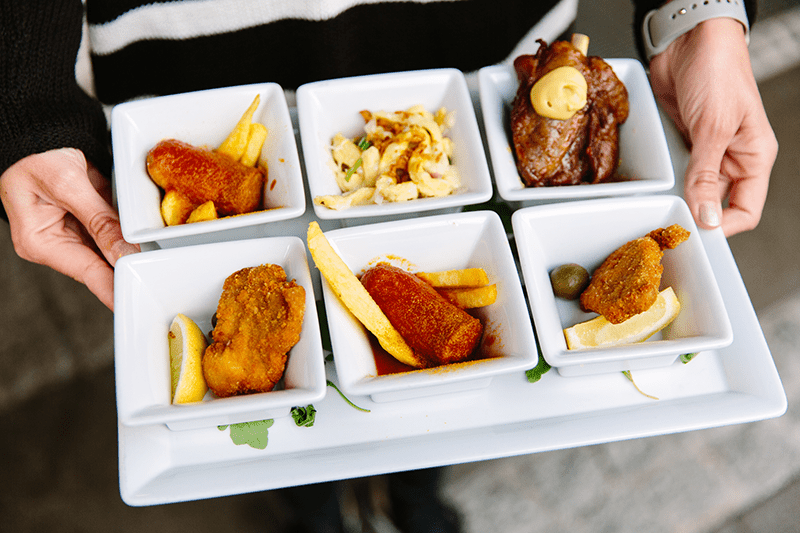 Literally, it means "Culture Brewery" (if your German is as good as mine, you'll need a friend to translate that for you). Formerly a brewery, today it's just a large building complex, found at Schönhauser Allee 36-39, 10435 Berlin. There, you'll encounter food from all over the world: Poland, Brazil, South Korea, Yemen, Istria, and more. Open on Sundays from 12:00 – 6:00pm, January to November, it is also home to other cultural events like concerts and festivals, and serves as a market hall. When it's used for street food, however, you'll be sure to find cozy fires in the winter (as well as an indoor area, should inclement weather befall your food hunt), and, come summer, an inviting beer garden for sun-soaked day drinking with friends.
Who doesn't love a good food truck?
The Mauerpark Food Trucks consist of over 30 stands every Sunday, from 9am – 6pm. It's one of the largest flea markets in Berlin! There, you'll find, of course, food, along with designer handbags, art prints, household goods, bikes, and even instruments. As for the food, at Mauerpark, you'll discover seasonal food from around the world: German sausages, Italian sandwiches, Mexican tacos, Peruvian anticucho, Japanese okonomiyaki, and more.
Best of all though? When the weather is nice, you'll also find karaoke there! And this isn't just any old karaoke. It's Broadway-level karaoke performance – you can perform your favorite Britney Spears or Robyn track in front of hundreds of people in the amphitheater. So, here, you're able to sate your physical appetite, as well as your appetite for fleeting stardom, all in one go.
With so many options for eating in Berlin, you may want to add some physical activity to the mix as well. Berlin's Fat Tire Tours offers economical, fun, and exciting ways to see this incredible city. Regardless of how you experience the city – by mouth, by foot, by bike – it's bound to be an adventure. Former Berlin mayor, Klaus Wowereit, once famously declared Berlin to be "poor, but sexy." Berlin is rich in culture, spirit, and joie de vivre – and hey, it's pretty sexy, too.